>
>
Creating a memorable experience at Explore23
News
As Planet's Chief Marketing Officer, I am incredibly excited to personally invite you all to Planet's Explore23 Conference, happening April 12-13th in Washington, D.C.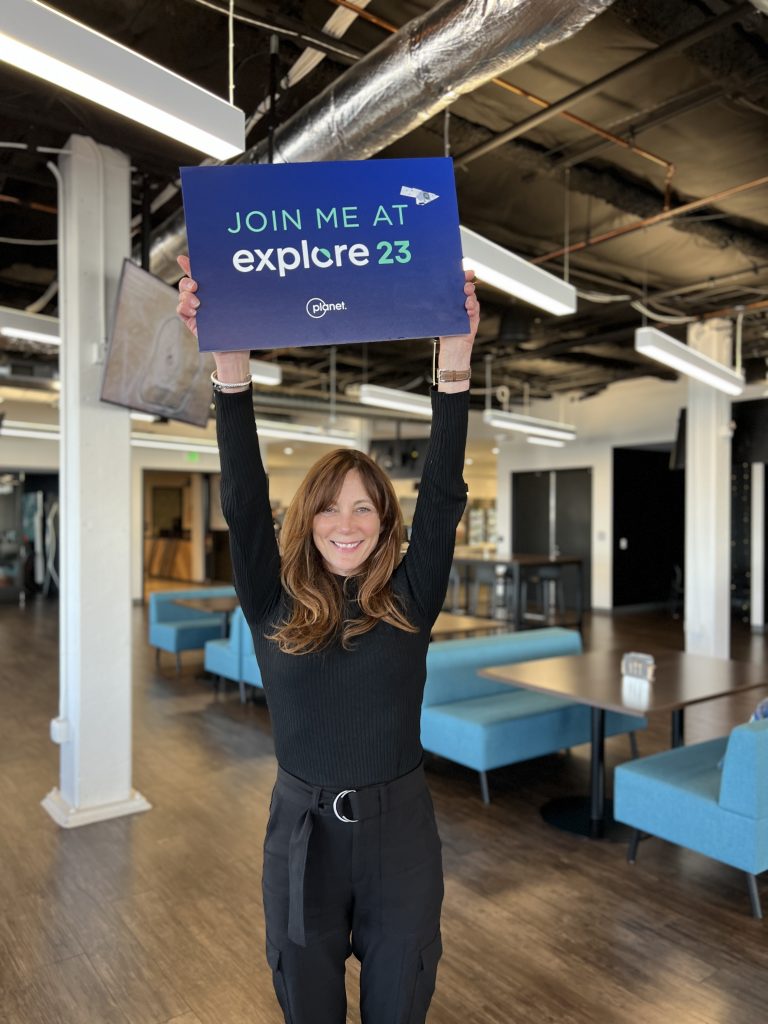 While building out this conference with my team, I recently took a step back for reflection. Throughout my career, I have spent a great deal of time both planning, attending and learning at customer conferences. The first one that I had a large hand in executing was more than 10 years ago. I was on a small Marketing team full of big ideas that were matched with a big commitment to making it a memorable experience. We painstakingly curated content into themes while asking ourselves, "Would it be relevant to our broad audience?"
We wanted enough choice for our customers to carefully select how they wanted to spend 45 precious minutes in a break out session. We wanted different points of view and impact in our keynote speakers. At the heart of it, was the singular priority of bringing value to our customers and partners, while also giving dedicated time for attendees to build community and connection.
Fast forward and we are less than 20 days away from Planet's Explore23 Conference. I am filled with the same aspirations and anticipation I had before. And I feel confident that we have created a memorable, engaging and informative set of days that will inspire our customers and partners to take action, solve problems in new ways, and create connections to help navigate our rapidly changing planet Earth.
Get Inspired.
As I look at our lineup of incredible keynote speakers, I know they will bring to life our theme of Transparency to Action – from Brad Smith, Vice Chair & President of Microsoft, Christiana Figueres, Former Executive Secretary of the UN Framework Convention on Climate Change, and General B. Chance Saltzman, Chief of Space Operations of the United States Space Force to our luminary speakers, astronaut and artist Dr. Sian Proctor and National Geographic cinematographer Jimmy Chin, who will bring a different perspective to inspire action. We'll dive even deeper on this theme to highlight key perspectives on Peace and Security, Digital Transformation, and Sustainability by showcasing how our satellite data reveals change in the world and allows our customers and partners to take data-informed action.
Learn.
Hear how our customers and partners are unlocking new insights through the collective power of technology. We have over 25 singularly developed breakout sessions where you will see how the Planet community uses data to illuminate the world and provide transparency including the Department of Defense, Organic Valley, and The Nature Conservancy. Learn how our users are creating global situational awareness and monitoring change in near real-time. Catch how these users are aiding in the global sustainability transformation, helping countries measure their natural resources and companies measure their supply chains.
Connect.
Most importantly, we are balancing all of these learnings with time to connect. Tackling our global challenges requires creativity and collaboration, and we have multiple opportunities for you to network with the many partners and customers attending, as well as the Planet team. As Planet enters its second decade, our North Star is to build an Earth data platform that powers action. This aims to be an indispensable tool trusted by countries, companies and communities alike to protect ecosystems and track natural capital so that it can be incorporated into our economic system. This vision requires the collaboration of our diverse ecosystem of customers and partners, and we're excited to give you all a sneak preview of what you will all see at Explore23 in our North Star video.
And finally, it wouldn't be a customer conference without time to celebrate and to that end, we invite you all to join us at the National Air and Space Museum for a special evening, surrounded by world changing aerospace technologies.
The entire Planet team and our Partners are thrilled to welcome you. See you in DC!