>
>
A Look Under the Hood: Planet's Mission Ops Team
Stories
As we all know, 2020 was a disruptive, chaotic, and tumultuous year. Professionally though, it was a year that tested and demonstrated the capabilities and resiliency of Planet's operations teams. 
Like the entire company, mission operations's transition to fully remote was abrupt. Within the span of two weeks, business continuity plans were developed and all employees transitioned to a 100% work-from-home posture. Fortunately, the team was well suited for this, as we already operate with personnel in multiple geographic locations, routinely transfer ops authority across time zones, and work remotely on a regular cadence. Nevertheless, new norms have been created, "zoom fatigue" is real, and work/life balance can be blurry and hard to manage in our environment.
But the team prevailed. In admiration of all of their hard work, we're pulling back the curtain on our best-in-class Missions Ops team and sharing some highlights from the last year. Enjoy!
Keeping the Lights On 
The Mission Operations team is responsible for all safe and stable space, ground, planning, and fulfillment operations. It's imperative that their day-to-day operations be reliable and maintained, even throughout a global pandemic. Satellites still needed contacts, imagery still needed to be captured and downlinked to our customers, and collects still needed to be reviewed and approved. It's in times of instability that all of the hard work this team has invested into our satellites, our ground stations, our pipeline, and infrastructure is demonstrated most. 
Go for Launch 
Before we can achieve any of these operations, we first have to get the satellites to orbit. The last 12 months tested the resiliency of our launch capabilities and planning. The year brought launch failures and delays that forced the team to improve our metrics and terminology, productivity, and efficiency of our systems to ensure customer expectations were managed and maintained until we could launch again. 
Fortunately, the space industry demonstrated resilience as well. We had a record five launches in 2020, all occurring within five months of each other. That's one launch per month! Flock 4V was launched on a Vega rocket and was our largest SuperDove launch of 2020, sending 26 of our latest-generation satellites to orbit. This was also our first launch with a phased deployment campaign from two deployers. For our high-resolution mission, both SpaceX launches that delivered SkySat 16-21 to orbit were inserted into record-setting low altitudes (280km) for Planet and into inclined orbits for the first time.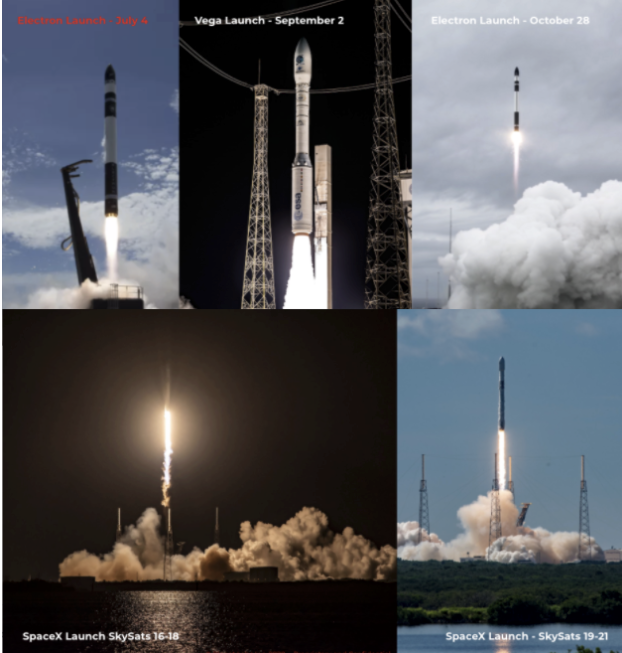 While one launch didn't make it to orbit, our other 4 launches were successful, with 6 of 6 SkySats and 35 of 35 SuperDoves successfully completing bus commissioning. At one point, 3 active commissioning campaigns were being executed in parallel across our teams.  All launches were supported fully remotely, a first for the SkySat Mission Ops team.  
With these launches, Planet had a record year for data downlinked in 2020 on our. Our global ground station network received over 5 petabytes of data from both the medium and high-resolution constellations managing thousands of contacts every day. This included over 426,000 SkySat collections downlinked and assessed!
There was no slowing down for the Missions Ops team heading into 2021, either. In the first few weeks of the year, Planet launched 48 SuperDoves to orbit. Due to continued improvements in automated commissioning workflows, these satellites began downlinking imagery in just 58 hours from launch – our fastest downlink ever for this fleet! 
Agile Aerospace
In response to market needs, Planet made the decision in 2019 to lower our existing SkySat fleet to 450km altitude in order to deliver a 50cm imagery product. This altitude lowering campaign was led by our Orbits R&D team and is a testament to Planet's agile approach. We're the first company to repurpose assets already in orbit – forgoing the immense cost of R&D, manufacturing and launch – to gain a more competitive product. 
Not only did the team lower 15 on-orbit SkySats, we also launched an additional six SkySats into an extremely low altitude and orbit-raised them to 400km, which required a new concept of operations, new ground station network, and many new system and automation workflows. This was the most ambitious and challenging SkySat campaign Planet has ever done with  almost 300 maneuvers executed over the course of 2020 to achieve success! 
With the team's hard work, collaboration, and perseverance, the result was a resounding success and all six SkySats are now contributing to customer imagery!
So long and thanks for all the pics
2020 was a bittersweet year for our RapidEye constellation, as our Berlin Space Ops team completed the multi-year campaign to retire the fleet after 11 years in orbit. The team worked tirelessly to ensure the safe retirement of the five satellites – an effort that executed 2,900 maneuvers in just 14 months!
While we grew our PlanetScope constellation by dozens of satellites over the course of the last 12 months, we also retired several. Space debris is an important issue and we're committed to maintaining safe space situational awareness of our satellites when their end of life is reached. In 2020, we safely retired 18 Doves and 5 SuperDoves. Retirements are expected given modeled degradation of the fleets and accounted for within our launch plans and capacity forecast.
Mission Operations Impact in 2021
Thanks to all of the hard work and dedication by our Mission Operations team, Planet is able to deliver quality data to our customers and partners across industries like agriculture, government, forestry, and more. With the additional capabilities and capacity of our new space and ground assets, combined with the automation and tooling investments made to streamline our operational workflows, we're well poised to continue offering quality products at the scale our customers desire to maximize their impact and value. 
In 2021 our teams will be hard at work to continue to improve upon our resiliency and responsiveness of our operations. We have no doubt that this year will deliver more exciting challenges for the team and look forward to playing our part in Planet's success. 
Interested in joining our growing team? Check out our Careers page for opportunities!