>
>
Belonging Spotlight: Pooja Pandey on Growing Up Globally, Being Heard, and Building the Future 
Stories
It's 7:00 am in California, and I'm greeted by a big, warm smile on Zoom as my call connects to Berlin. It's 4:00 pm in Germany and Planet Product Manager Pooja Pandey has already had a day packed full of meetings and projects by the time she sits down for our virtual interview. This morning-to-late-afternoon calltime is familiar to many at the company who work to catch one another between Planet's San Francisco and Berlin offices. But Pooja Pandey is no stranger to the world of working and operating with a global mentality. In fact, she grew up living in five different countries across two continents, and speaks Hindi, German, English, and even some Mandarin Chinese.
"I feel like there's this term that always gets thrown around. 'Third culture kid.' That's me – I'm the very personification of that," said Pooja, describing the term given to people who grow up in these uniquely global situations. Third culture kids, otherwise known as TCKs, are raised outside of their parents' culture and nation of origin (the first culture), in a new country of residence (the second culture), and develop a distinct identity that can tie all TCKs around the world together (the third culture). They often develop an adaptable personality and a global identity that's rooted in people instead of places.
"Honestly, I think my friends would describe me as weird," she laughed, "but I'm cool with that! I mean, who are we if we're not a little weird?" With noticeable energy, she explained, "I ping pong all over the place."
"Because of the way I grew up, I just got exposed to so many different cultures and so many different ways of living," explained Pooja. The globetrotter was born in India and due to her father's job, she moved to Singapore for twelve years, then Taiwan for three years, Munich, Germany for her last two years of high school, and then spent her university time in London, England. She now finds herself back in Germany for work.
Pooja said that she draws a lot of strength from her parents' bravery to take the family across the globe. "They are immigrants and I am a daughter of immigrants, and I feel very proud of the courage and everything it took for them to move so many times from their home country and rebuild their lives again and again," she said. "Home is one thing, but when you think about where you are, it's the community that you have that is such an integral part of Belonging in a place. When I think about my parents having to rebuild that over and over, I think I can do anything."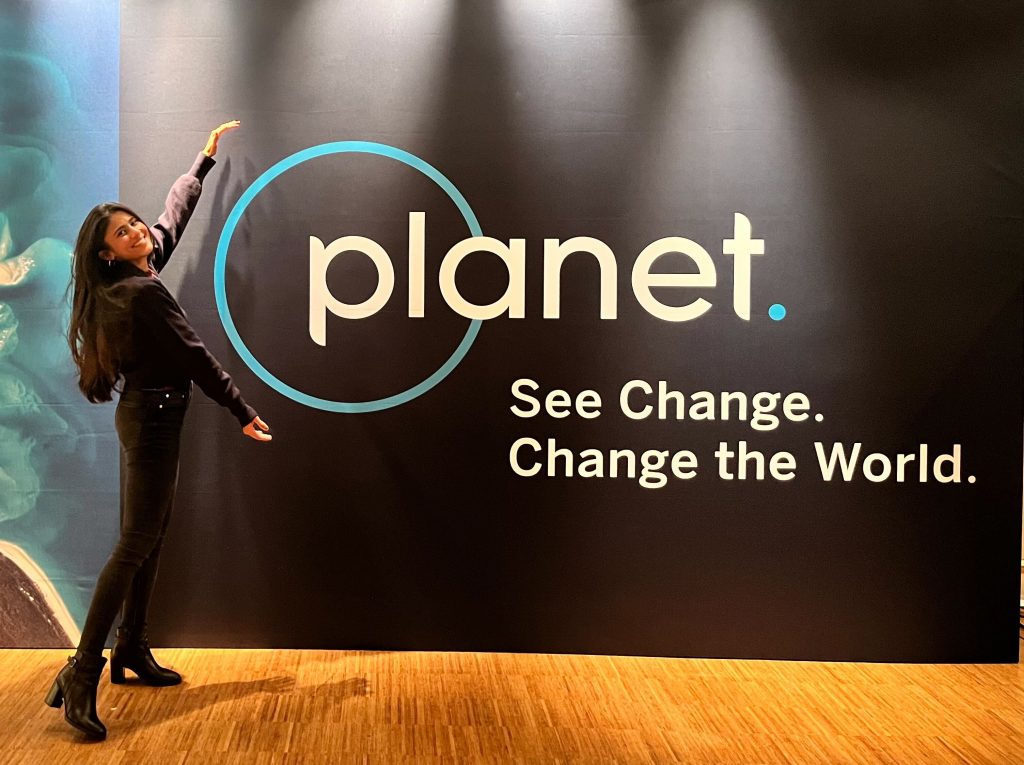 And to Pooja, a key element of Belonging in a community is being listened to. "If I had to define Belonging, it would be having my voice heard and being able to voice myself without judgment. That's where Belonging resonates with me."
Pooja explained that she believes there needs to be space for addressing Belonging in the global tech workplace. "I think there is some anxiety and some tension when we are talking about a person of color or a woman working in the tech industry, but I think that we should talk about it. That is an uncomfortable space that we need to go into so that growth really will happen through conversation," she explained. "With that being said, I think working at Planet has been very fulfilling. I think it kind of fosters that space for women to feel like they Belong. I've always been very open about my opinions, and I feel like they have always been heard. The people who we have hired here are also great advocates of this, so I think we are all taking strides in the right direction and may be miles ahead of other places of work."
Pooja expressed that her global experience has enabled her to help Planet's data users also be heard. "Because you get exposed at such a young age to so many cultures, you build up a lot of empathy and understanding. It helps a lot, especially when you are in a customer-facing role that's all about understanding the way people do business."
After a Planet internship, Pooja first joined the company five years ago in Customer Success where her day-to-day was focused on talking to customers. "I grew to understand (at a very metalevel) what the issues were that customers were facing. I moved to Product about a year ago to make a difference. Working in Product is a lot about future thinking. I want to build products to fix customer problems because I understand what they are trying to do and how I can take those problems and build a solution around them that is scalable and resilient — and that when we add more products in the future, it doesn't break."
Pooja has an undergraduate degree in Environmental Science and a Master's in Business and Computer Science. In both of these spaces, she focused extensively on remote sensing and geospatial data, looking at ecology from biological and spatial contexts and building geospatial computer algorithms. "I've always been in this remote sensing world, always orbiting around it, sometimes closer and sometimes further away."
Diving deep into our products, Pooja brings her passion for geospatial technology and insights into her role. "I'm living in the world of data here," she laughed. "I oversee all of the usage data that comes from our customers and users, essentially how they are using the data and what kind of reports they want from us." With this data, she spends her days working strategically with others in the Product and Engineering teams to ensure that as they are creating and iterating on our products, they are aligning with the future vision of Planet as a whole and its long-term product solutions.
When asked about her own opinions on the future, Pooja said, "What do I want to see in the future of the globe? More equality and equity. Bringing that back to Planet's mission, it's about the work we are doing around Impact and supporting governments, like the NICFI program that I've been involved in. A lot of use cases that are coming out of the program are propagating the future of EO data."
With enthusiasm this worldly data-lover finished, "We are seeing people really wake up to the fact that: a) They need to make data driven decisions on a global scale; and b) Earth observation data is going to play a huge role in that, and that's really wonderful to see that — especially now that I'm working in this industry. The fact that all of this change is happening in real-time, it is really exciting."