>
>
From Exoplanets to Our Home Planet: Max Joshua on Belonging, Vulnerability, and Pride
Stories
"All real conversations happen along an axis of vulnerability," said Max Joshua, Planet's Senior Market Development Manager, Hyperspectral and the Employee Resource Group co-lead for PlanetQueers. "I heard the line in an interview. It's from the poet David Whyte," she explained while sitting in her remote home office in Los Angeles. This was a line that helped Max reframe how she wanted to show up fully as herself – both at work and in her personal life – in recent years. 
We can start from the beginning. "I grew up in a small-ish town in England," Max said with a lilting British accent. "But I was actually born way up in the north of Scotland, and that's where I lived for the first few years of my life. My earliest memories are of me being out in nature with my mum. We used to walk together through the forests and hills when we lived up there. She had one of those little seats on the back of her bike, so we'd go all kinds of places together. I've loved the outdoors my whole life, whether it's hiking, paddle boarding, surfing, or exploring national parks."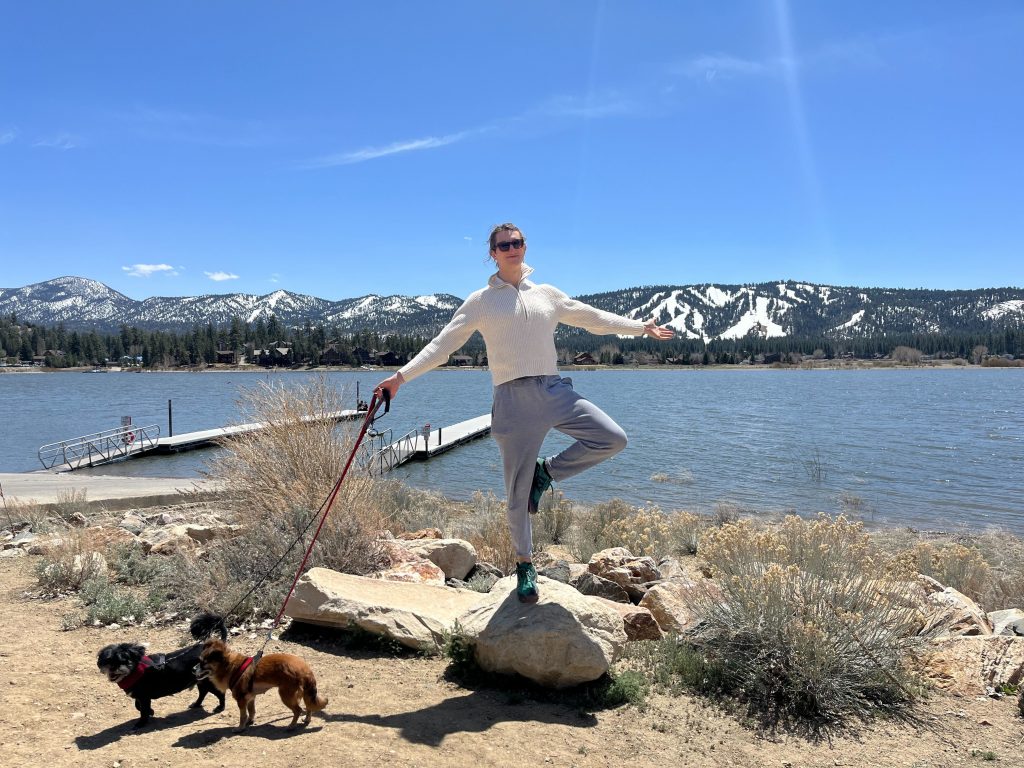 From this passion for nature, Max was motivated to study environmental science, and in college found herself taking an interdisciplinary science path, ranging from astronomy to clean energy. "What I really wanted to focus on was learning the science behind how things work. I did a bunch of physics courses, especially astrophysics, and I studied climate science and sustainable development. What really matters to me is using science to make a real-world impact."
Early on, Max's astrophysics pathway launched her into a unique and cutting-edge career in the space industry. "I got a really cool job offer at a start-up doing commercial space science, basically developing a series of satellites created to reveal the chemical composition of planetary atmospheres in other solar systems, using infrared spectroscopy." Max worked on this project for six years. "During that time, I built a collaboration of research institutes that would use the satellites to tackle burning questions in exoplanet science, things like, 'Which planets out there have conditions that are suitable for life?', 'Where can we detect water, oxygen, organic molecules?', 'How do planets in all of these different solar systems form and evolve?', and 'What does it tell us about our own solar system history?'"
After this extensive galactic journey, Max was dreaming of coming home to our own planet by summer 2022. "I really needed to refocus my career and spend the majority of my time doing something that would help the world in a more concrete way." She saw the job description for working on Planet's upcoming constellation of hyperspectral satellites. "It sounded like the dream. All of the skills I had learned in commercial space, I could bring them to a mission with massive potential to tackle climate issues around the world," she recounted with a passionate tone. "It was exactly where I wanted to be!"
Max's work explores emerging markets for hyperspectral satellite data, discovering market fit, and investigating all of the spaces for impact. "For me personally, Market Development is about connecting with people and building real relationships with them. Basically, it is finding the right market leaders, the right experts (scientific and commercial) – the relational pathways to reach a particular market. It's getting the right minds behind our mission, helping us understand where they want to apply our data and how we can help them get there," she explained. "It feels really collaborative to me, and I think that's the piece that I get most excited about."
Max believes strongly in the value of relationships, and feels that she has grown immensely in this area during her time in the space industry. "In my early career, I think I had been entering conversations in my professional life kind of guarded or veiled by this shield of professionalism. I was afraid to let my personality slip through."
But her views on vulnerability at work shifted, she said, citing the aforementioned David Whyte quote. "Reframing and thinking of every conversation as a real interaction with a real human being, whether it's work or personal, really changed my work life for the better. It encouraged other people to open up as well, and that allowed me to build relationships. It's those relationships that actually make things happen," she shared, opening up about her professional journey. "It also just makes work a lot more fun!" she added with a joyful laugh.
"For me, Belonging feels like home. So, Belonging somewhere means it's a place where the whole of me can feel at home and I can show up as my full, authentic self; and that would apply just the same in a social circle as in a workplace too, really," Max said, noting that being a part of the PlanetQueer ERG was very meaningful for her.
"It's really important for me to feel connected to other LGBTQ+ people in my professional environment. I never saw a single visible trans person for many, many years of my professional life. I never encountered anybody, didn't really see any people who really looked like me, so I feel like it's really important for me to meet with people and connect with people who do have queer identities that they have brought into the workplace, so that I can understand their journeys. We can unite and share lessons learned or struggles that we are facing."
As a co-lead of the ERG, Max also wants to make other trans people in the workforce feel represented. "When I was transitioning, when I realized that, you know, that this is who I am and I need to bring it into all parts of my life, including professional, I was pretty worried that it would kill my career," she admitted. "Like I said, I didn't see any trans people in prominent positions in the space industry, or very, very few. I was pretty worried about my career prospects. So, to me, simply being visible within Planet as a trans person is quite important. Hopefully, it can encourage other people who are more junior (like where I was five or six years ago) that, 'Yes, you can have a good job. You can have a good career. You can have your identity respected. You can have all of these things. Even if it's not common, it is going to become more common.' So, I'm trying to be that person that I never saw in my early career."
With this in mind, Pride month holds a special place in Max's heart both personally and socially. It's a time of retrospection and collaboration.
"It's definitely a time for me to reflect on where I'm at in regards to my gender transition and my queer identity, reflect on how I felt last year, how I felt this year. You know how at New Year's people like to take stock of their lives, set goals, that kind of stuff? It feels a little bit like that, but through a specifically queer lens for me," she explained.
Socially, she also feels the community is very critical to advancing the well-being of all queer people. "The way I think about it is that Pride started as a protest for the basic human rights of queer/LGBTQ+ people. This is a time when queer people and allies can come together in solidarity. That feels especially critical this year versus last year, for example as legal and medical rights are being challenged in the U.S. and abroad. So, it feels particularly important not just to be visible, but to actively push back against threats to the community, let's say. Then on the more fun side, Pride is just an opportunity to celebrate who we are and the journeys that brought us here."
When asked what she would like to see in the future, Max had a two-fold vision of diversity.
"I would love to see a more diverse workforce in the space industry. It has a long way to go. Especially in customer-facing roles, there's really a low representation of queer people and all other kinds of underrepresented people, so I would love to see more of that. I think what makes that happen is having a very welcoming environment where specific issues that all sorts of underrepresented people face are understood," she remarked. "More broadly, I would love to see the world reach a point where we go further than net zero emissions, where we can even go beyond that to get to a place where we can cool the planet and allow nature to flourish more, and get on a more sustainable path for the whole of humanity living in this limited world."
With a warm smile, she concluded, "I guess, all kinds of diversity, right? Human diversity within the space force and then allowing biodiversity to flourish around the world."