>
>
Introducing the First Round of Explore 2021 Keynote Speakers
News
Explore 2021 is all about building connections across sectors and geographies to find solutions to pressing global challenges, and this year you will hear straight from the leaders and organizations reimagining how we drive economic growth, improve human livelihoods, and steward the environment.
Introducing the first three members of our keynote speaker lineup!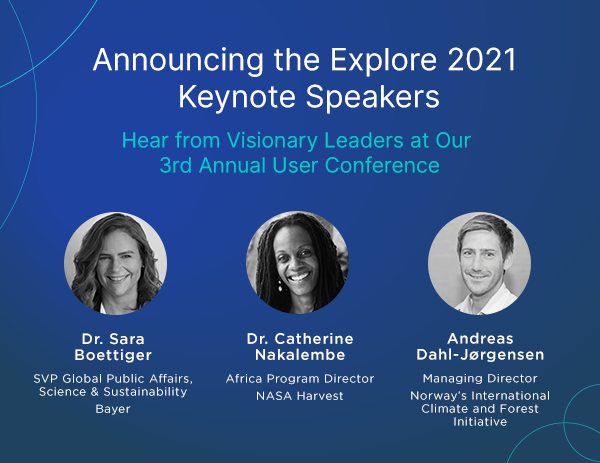 Dr. Catherine Nakalembe, Africa Program Director of NASA Harvest and 2020 Africa Food Prize Laureate, is using satellite imagery to improve the lives of smallholder farmers across Africa by facilitating data-driven agricultural decision-making. 
Andreas Dahl-JØrgensen is the Managing Director of Norway's International Climate and Forests Initiative (NICFI), overseeing ambitious projects that enable researchers and policy makers to access satellite data for tropical forest research and conservation programs. Join us for Andreas' talk to discover how NICFI is bringing high-resolution data to the masses to uplevel tropical forest conservation projects. 
Tune in to a fireside chat with Bayer SVP of Global Public Affairs Dr. Sara Boettiger for a deeper look into the digital transformation in agriculture, and the next-generation, sustainable practices that are benefiting growers, consumers, and the environment. 
In the spirit of Global Connection, these speakers are coming together to kickoff the broader conversation with the afternoon breakout sessions across science, agriculture, sustainability, and government. From designing more sustainable agriculture policy, to preparing for climate risks, to monitoring supply chains; full agenda details are coming soon!
In addition to the thought leaders above, you'll hear directly from Planet executives Will Marshall, CEO; Kevin Weil, President, Product and Business; Ashley Johnson,  Chief Financial and Operating Officer; and James Mason, SVP of Space Systems. These leaders and more will dive deeper into the future of the company, the product vision, and the next big milestones in our mission toward Queryable Earth. 
Explore 2021 will be convened virtually on October 12th-13th, and will feature a range of breakout sessions, hands-on workshops, and networking opportunities. Register for free and learn more at explore21.planet.com.