>
>
How UNICAMP, One of the Top Universities in Latin America is Using Satellite Imagery to Monitor Integrated Crop–Livestock Systems in Brazil
Stories
To read this piece in Portuguese, view this page.
According to the FAO, about 38% of the earth's surface is occupied by agricultural areas, one-third as cropland, and the remaining two-thirds as meadows and pastures. In Brazil, pasture is the main land use, occupying a large part of the territory from north to south of the country—about 150 million hectares. However, over 50% of the Brazilian pasture areas have some sign of degradation. Consequently, this impacts food availability, making sustainable food production an extremely relevant issue worldwide.
The increase in the global demand for food—combined with the need to preserve natural resources—requires a solution for the sustainable exploitation of land for food production. To meet this need, Brazil has adopted the integration of crop and livestock activities as an alternative to intensify production sustainably in agricultural areas.
"Integrated crop-livestock systems (ICLS) are very dynamic agricultural systems seeking the synergism between agricultural and livestock resources in combination with land use and management practices focused on conserving natural resources. The integration of crops and livestock activities has been adopted in Brazil as a pioneering approach to achieve more sustainable agricultural systems," said Dr. Aliny Dos Reis, Postdoctoral Researcher at The University of Campinas (UNICAMP).
Today, ICLS are crucial to building resilient ecosystems that can withstand a changing—and at times unpredictable—climate. Utilizing an ICLS saves farmers money while making the most sustainable choices. Accordingly, fast and accurate measurement of available pasture biomass is essential to achieve effective grazing management decisions.
An increase in the use of ICLS in Brazil has been observed in the past decade. Because these are dynamic production systems with constant changes in land cover, identifying, mapping, and monitoring these areas makes it a complex challenge.
"In recent years, the unprecedented combination of high temporal and high spatial resolution imagery offered by the PlanetScope constellation has improved the capability of monitoring pasture biomass using remote sensing data," said Dr. Aliny Dos Reis.
Researchers from UNICAMP and Embrapa Digital Agriculture explored the potential of using spectral and textural information derived from PlanetScope imagery and machine learning algorithms to estimate pasture aboveground biomass and canopy height in intensively managed fields under integrated crop-livestock systems in Brazil. These models achieved moderately high accuracy to predict pasture aboveground biomass and canopy height, explaining 65% and 89% of the variability of these variables, respectively.
The results highlight the potential of using texture measures derived from the PlanetScope images to achieve enhanced aboveground biomass and canopy height prediction accuracies compared to spectral bands or vegetation indices as predictor variables in the machine learning models.
The researchers reported that the temporal and spatial resolutions of the commonly applied open-access optical remotely sensed data, especially medium and coarse spatial resolution remotely sensed imagery, have been an obstacle to achieve effective pasture monitoring at a fine scale in intensively managed fields. This work further highlighted that "the increasing temporal and spatial resolution offered by Planet Dove satellites may overcome this spatiotemporal limitation,'" said Dr. Aliny Dos Reis, researcher at UNICAMP.
This project is supported by our regional partner SCCON, an authorized distributor of Planet in Brazil.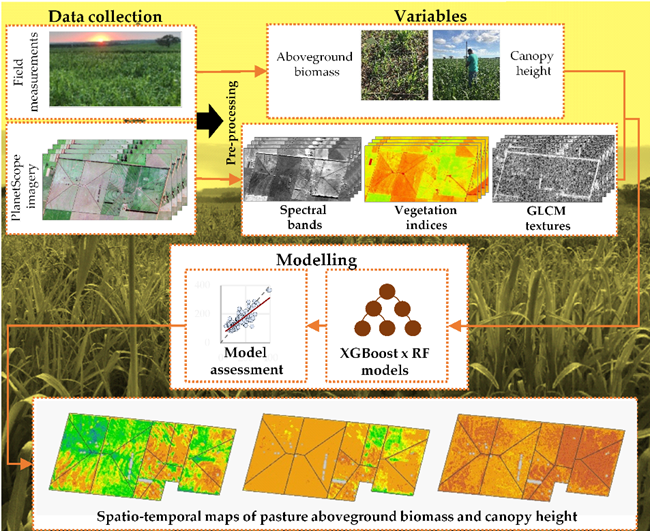 To learn more, read the complete study in the open access journal here.
Watch the on demand webinar "Use of PlanetScope images in agricultural research" for additional insight. Integrated crop-livestock systems (ICLS) have been adopted in Brazil as a pioneering approach to ensure economic and environmental sustainability in agricultural production. In this context, the use of satellite images of high temporal frequency and high spatial detail, together with robust artificial intelligence approaches, stand out as one of the most efficient ways to analyze ICLS, helping growers and agricultural organizations in important decision making.
In this webinar, we discuss:
The challenges of monitoring ICLS using satellite imagery;
How to explore PlanetScope image time series for monitoring ICLS using machine learning algorithms;
A case study for mapping and estimating pasture biomass in ICLS areas.