>
>
The Launch of Planet University and Planet Community
News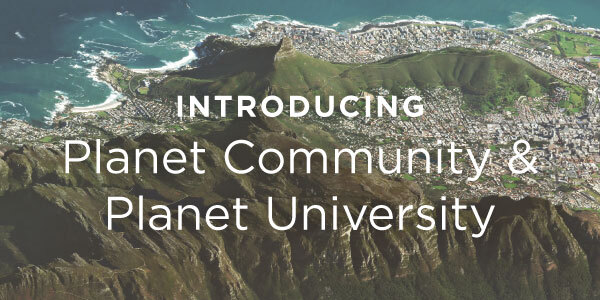 As Planet continues to grow and support an increasing number of customers and partners, it is our desire to provide enablement resources and opportunities at scale to help them succeed. In order to best serve and support our users, we are excited to launch our new customer enablement platforms: Planet University and Planet Community.
Over the last few years, Planet has brought on a growing number of new global customers, including BKG, NICFI, NASA and many others. We have seen great advancements with our rapidly-expanding network of strategic partnerships, and we've recently rolled out our Planet Orbit Certification Program to better support our partners. We have recognized a growing need for enabling accessibility and utility for our customers and partners at scale. As we look ahead and chart the course of Planet's second decade, we ask ourselves: How do we build a scalable way to best enable our diverse and growing customer and partner base and help connect them with one another?
Our Global Customer Success team has set out to solve this, and we started by investing primarily in people. I joined Planet a little over a year ago and have built a global team with the focus of building scaled education and enablement platforms for our customers and partners. Our mission is to create educational resources and learning experiences to help anyone in the Planet orbit achieve their program goals while using Planet tools and data. And as users learn and discover new use cases for Planet data, we are eager to provide opportunities to connect customers and partners with their peers in the global Planet community.
Planet is excited to announce the launch of two new customer enablement platforms: Planet University and Planet Community. Here's a little bit more information about each:
Planet University is our new learning management system, designed to be the first stop for on-demand and live training resources. For new Planet users, it's easy to get started with onboarding resources, including an introduction to remote sensing, introductory courses on Planet's mission, our tools and web applications, and how to use Planet data.
More advanced users can explore videos, courses, guides, tipsheets, and other helpful resources focused on getting the most out of Planet data. Our webinars page is the central hub to register for live webinar series and on-demand webinars to join other global users for live training sessions, office hours, workflow integration tutorials, industry-specific webinars and more.
In addition to our educational content and experiences, we launched Planet Community to help users and partners connect with others in the global Planet community. The platform enables members to ask questions, start discussions, share ideas and techniques with members around the world who are using Planet data in their workflows. We are always adding both virtual and in-person events to our calendar, and our member groups to help users find others to share ideas and connect. We're excited to make it easier for our ever-growing community of users to post their findings and questions, learn from one another, and share their work.
In addition to these member-to-member aspects, Planet Community also helps users to keep in better touch with Planet's Product and Engineering teams. Our Product Announcements page is where we will publish our product feature release notes and announce new features and improvements to the Planet platform, our tools, APIs, and data. Have an idea for how we make things even better? On our Product Ideas page, members can submit product improvement ideas, and vote for ideas suggested by others in the Planet community. These suggestions are shared with our Product team and will help provide feedback and suggestions for our product roadmap in the future.
My team and I have been hard at work on our platforms and we are excited to share these resources with Planet users around the globe. Once you've had a chance to give them a test drive, we'd love to hear from you! Please let us know if you have any feedback or suggestions of new courses or content you'd like to see on either platform by emailing us at customereducation@planet.com.