>
>
Getting to Ground-Truth in Asia: Part Three – Harnessing satellite data for infrastructure inventory and disaster response
Stories
When the underwater Hunga Tonga-Hunga Ha'apai volcano erupted in January 2022, it sent about 58,000 Olympic-sized swimming pools' worth of seawater into the earth's stratosphere. And today, researchers are exploring whether it could have been linked to extreme weather events that transpired in the southern hemisphere, like the February 2023 Cyclone Gabrielle that's projected to rack up roughly $8 billion USD in damages in New Zealand alone.
But how do governments and organizations make estimates like these – and how do they know how to quantify them and plan towards these risks?
As we've been reading in the first two installments of the "Getting to Ground-Truth in Asia" series (agriculture and forestry), there can be discrepancies between what's reported from an impact zone and what can be seen from space. Many governments, organizations, media, research institutions and nonprofits, and humanitarian relief organizations use and rely on satellite imagery to provide early warning signs of natural disasters like volcano eruptions, and also to inform their decision-making around disaster response or resilience planning. Today we're looking at how a number of the Pacific Island Countries are doing exactly that.
Disaster response: infrastructure asset inventory and exposure
While no nation is immune to the adverse effects of climate change and natural disasters, the impact is acutely felt by citizens of the Pacific Island Countries (PICs) – like those living in the Republic of Marshall Islands, Samoa, Solomon Islands, the Kingdom of Tonga, Republic of Vanuatu, and the Cook Islands. The Pacific Catastrophe Risk Assessment and Financing Initiative (PCRAFI) determined tropical cyclones, earthquakes, and tsunamis cause these governments an annual average loss between 1 to 6 percent of their GDPs, with Vanuatu, Niue, and Tonga experiencing some of the largest annual average disaster losses globally.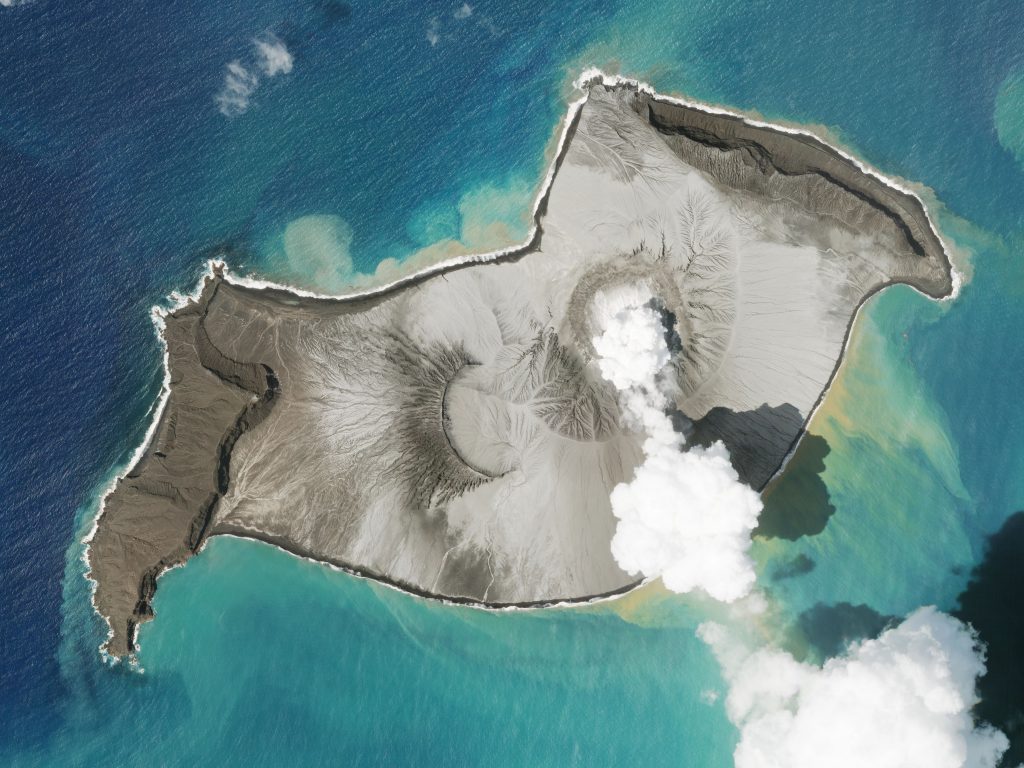 So PCRAFI, a regional flagship initiative of the World Bank, aimed to provide PICs with disaster and climate risk information and associated tools for enhanced risk management to inform development planning and financing decisions. The primary activities included developing an application for Rapid Disaster Impact Estimations immediately following disasters and strengthening the existing Pacific Risk Information System (PACRIS), a database containing detailed, country-specific information on assets, population, hazards, and risks.
Our customer, the Fiji-based Secretariat of the Pacific Community (SPC), used PlanetScope 4- and 8-band products and SkySat tasking to help identify and delineate building and other infrastructure footprints to inform national inventories of infrastructure assets, as well as their exposure to natural disasters. Yet building inventories is just a part of the process; you also need capably trained government agency staff who can use and maintain the data as well as the ability to expand reach and access across the wider Pacific community – particularly when the need arises to effectively communicate risk information to policy and decision makers.
SPC was able to set up the PACRIS database as a GeoNode location across all of the Pacific nations involved in the project, training over 120 government staff on the platform at its outset in the mid-2010s. The six governments also received Post-Disaster Budget Extension Guidelines, which provide a suite of tools for managing financial demands in the wake of any natural disaster.
Today, the work with SPC continues and has expanded to additional nations like Fiji and Kiribati, and with an eye toward specific-country disaster and climate-risk projects such as providing the analytical inputs to Tuvalu's policy reforms around reducing risk to public sector infrastructure assets; a flood management plan for the Solomon Islands; and contributed to the technical underpinning to prepare guidelines for the implementation of Fiji's National Building Code (NBC) for new single-story residential houses and single-story schools located in rural areas.
Planet in the Asia-Pacific region
Planet designs, builds and operates the world's largest fleet of Earth observation satellites with a mission to use space to help life on earth – as evidenced through projects like those above working in areas of food security, ecosystem rehabilitation and disaster response. We formally established our presence across Asia and Australia since 2017, with around 40 employees, serving over 130 customers and working with ~40 partners across the continent.
As a part of this series, you can read more about how satellite data is being used to verify crop production in India here and for forest harvesting and rehabilitation in New Zealand and the Philippines here. In our last installment of this series, we will read more about Planet's outlook for Earth observation and upcoming activities in the region in a QA with Planet's VP of Sales – Asia, Ben Allard.