>
>
Illumination, Inspiration, and Impact: Explore 2023 Shows How Planet Data Aims to Change the World
Stories
As the sun set on Explore 2023, I walked away in awe of the countless stories I heard, detailing how Planet data has continued to shine a bright light on our rapidly changing planet. Thanks to our leadership keynotes, luminary speakers, and customer stories, I've gained an even better sense of the drivers of our global and collaborative work. From revealing the changing wheat fields of Ukraine to generating new AI-enhanced models to monitor natural disaster risk, Planet, our customers, and our partners are pushing into new arenas, embracing both the space renaissance and the data revolution. So, my top three takeaways from yesterday's series of events? It all boils down to Illumination, Inspiration, and Impact.
1. Illumination
Earth observation data can aid in peace and security initiatives, deterring conflict and revealing critical insights to illuminate details of critical events and rapidly changing situations on a near-daily cadence. In the morning morning, we learned more about how this illumination has supported the work of the U.S. government through Planet's co-founder and Chief Strategy Officer Robbie Schingler's fireside chat with Vice Admiral Frank Whitworth, Director of the National Geospatial-Intelligence Agency.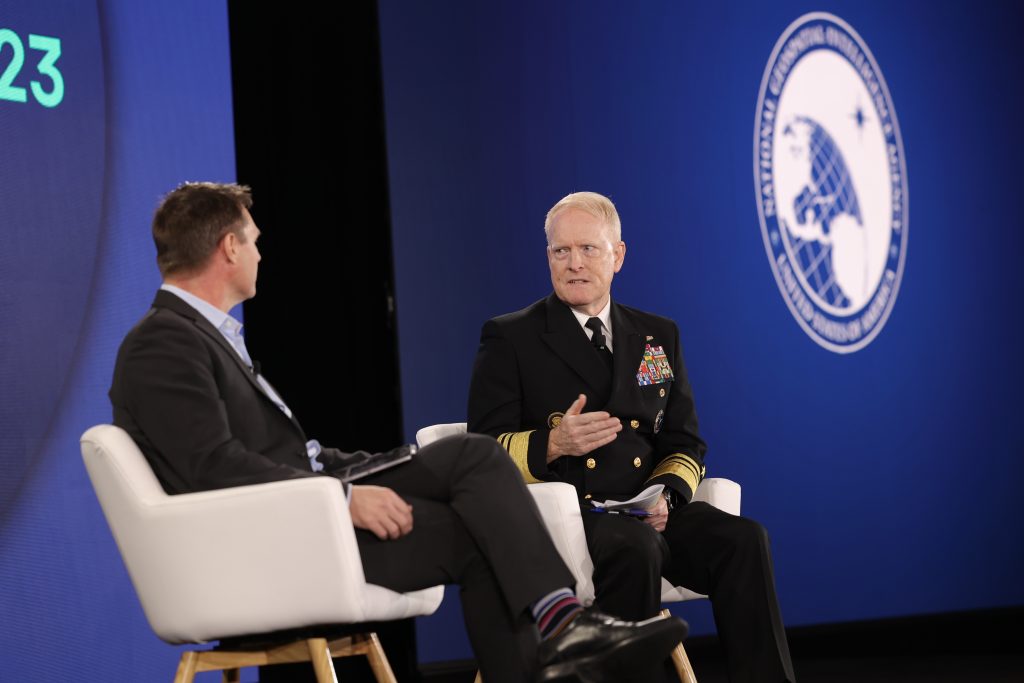 The two discussed how Planet's data is supporting the unique triad of government, industry, and academia all working together at the Taylor Geospatial Institute in St. Louis. Vice Admiral Whitworth highlighted how sensing leads to sense making for the intelligence community. Now with an influx of sensing technologies, Whitworth noted that AI technologies are also being used to manage the data deluge of sensing information and helping to automate the analysis process.
"Part of security is understanding the Earth and the frictions that might bring serious security issues. Being predictive means you have to understand the world. We have this privilege and responsibility to contribute data," explained Whitworth.
Following this, Planet Federal's Chief Strategist and Chairman of the Board Robert Cardillo was joined by General B. Chance Saltzman, Chief of Space Operations at the United States Space Force. The conversation focused on how the remote sensing industry and the U.S. government can work in collaboration to help ensure peace and security globally.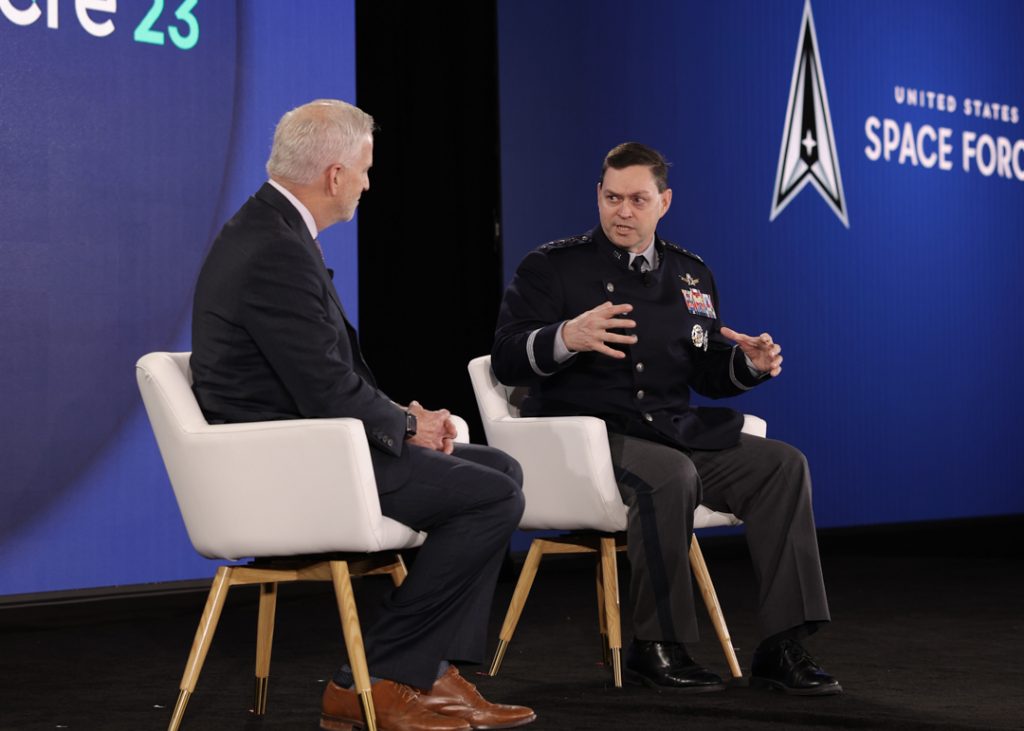 "Show me the art of the possible, and then we can build a rapid feedback loop between industry and government. It's all about enhancing that relationship to develop capabilities at speed and scale," said Saltzman.
As we heard over the last two days, we are living in an unprecedented era of geopolitics in which governments, researchers, the media, and citizens can access information to illuminate and document the actions of governments and the changing planet. This is revealing complex political and environmental issues around the world and giving people the knowledge and platform to affect positive change.
For instance, we heard from Inbal Becker-Reshef, Program Director at NASA Harvest, NASA's Food Security and Agriculture Program, whose team is analyzing our satellite imagery to report on crop impacts caused by Russia's war in Ukraine. She highlighted the critical reports her team created using Planet data, which analyzed crop harvests across occupied and unoccupied territories of Ukraine. Her team informed the Ukrainian government and media of the state of the world's "breadbasket" and they reported that significantly more crops were being planted and harvested across the region than previous estimates predicted.
We were also fascinated to hear from the journalists and analysts who have been illuminating global events with factual stories in order to ignite change. With satellite data, these investigators have been able to see what is happening in dangerous places from the safety of their computers. Reporter Meg Kelly from The Washington Post was able to report on atrocities happening in Tigre, Ethiopia and reveal details of the Russo-Ukrainian War. Researcher Matt Finer of the Amazon Conservation Fund used Planet's data over a series of years to shine a light on the ecologically devastating impacts of gold mining in the Amazon and influence policy change in the region. At the Middlebury Institute of International Studies, Jeffrey Lewis and his team analyzed Planet's data to reveal hundreds of missile silos in China, informing civil society about international affairs in a new accessible way. These researchers and reporters are using satellite data to reveal these previously unrevealed regions of the world.
2. Inspiration
At Planet, our work is inspired by our core mission to use space to help life on Earth every day – and we were moved to hear this sentiment echoed from our morning luminary speaker. Astronaut, artist, and educator Dr. Sian Proctor took to the stage for an awe-inspiring talk about her journey and experience of traveling to space and being bathed in earthlight. Dr. Proctor is a woman of firsts: the mission pilot for SpaceX's Inspiration4, the first all-civilian orbital mission; the first female African American spacecraft pilot, the first African American commercial astronaut, and the first African American to paint in space.
In her rousing speech, she made the audience want to reach for the stars and called for us all to create a just and equitable future by positively influencing others. Fittingly, this remarkable woman's motto is "Space2inspire" – encouraging people to leverage their unique passions and skills to inspire others in new and creative ways, such as marrying art and expression with science and technology. Through her award-winning poetry (what enabled her to earn a spot on SpaceX's Inspiration 4 flight), she called for all to strive for a just, equitable, diverse, and inclusive (J.E.D.I) space – an ode to the power of the force. We are proud to share that her own artwork is currently orbiting around our planet on a Dove satellite. For me, this inspirational talk reinforced the notion that we must push our own creative boundaries to achieve our next steps.
We also heard from a man who has dedicated his life and career to supporting the sustainable stewardship of our special life-filled planet. Planet co-founder and CEO Will Marshall joined Andrew Steer, President and CEO of the Bezos Earth Fund and previous President and CEO of the World Resource Institute, for a fireside chat on the importance of addressing climate change and using satellite data to enable a global sustainability transformation.
His talk inspired us to ensure that our data is getting into the hands of those working to protect our precious natural resources. He called for increased accessibility for indigenous communities, and inspired us all to take action to mitigate the global effects of climate change. "Absent information, we will not be able to address the problems that we have set out to do," said Steer.
And we heard a myriad of inspirational customer and partner stories that have made me believe that Planet's data is helping build that resilient global future. Here are just some of the examples:
Supporting Transformational Change in Africa
Representatives from Rock Geospatial LLC and the United Nations World Food Programme shared how Planet satellite data, in addition to the empowerment of young adults in sub-saharan Africa, is transforming rural poverty and food insecurity. Focusing on development planning in Lesotho, this hopeful project used Planet Basemaps and international collaboration to improve agricultural self-sufficiency and employment in the country.
"The continent of Africa needs this type of analysis. The data is available; and this is just the beginning. We have been dreaming of this for many many years and it is working," said Menghestab Haile, Regional Director of Southern Africa from the United Nations World Food Programme.
Addressing Climate-linked Instability
Leaders in defense, diplomacy, and aid are focusing on how climate change is deeply intertwined with political instability. More extreme weather events, such as drought or sudden disasters, are known to cause human conflict as resources become scarce. So, the global security community is leveraging Planet data for operational readiness to manage humanitarian crises and advance peace and security.
"There is a nexus of climate migration and conflict….This is where it comes back to data. We can't just have a measurement of food or impacts of drought; we also need to determine the best data that would fit our complex models," said Chelsea Cervantes de Blois, Lead Climate Security Analyst for the Office of the Geographer and Global Issues at the US Department of State.
Creating AI-enhanced Models for the Future Resiliency
Planet partner Accenture shared how they are integrating Planet satellite data into their models for sustainable supply chain management and the evaluation of natural disaster risk on renewable energy. Viveca Pavon-Harr, Director of the AI Discovery Lab for Accenture Federal Services shared how the integration of Planet's insights helped Accenture build a simulation system to identify the best locations for renewable energy growth in Latin America and the Caribbean. This team is moving beyond monitoring what's currently happening on Earth. By using AI, they are building out future sustainable scenarios to inform business and policy.
"When we use even more generative AI to extract even more data from these resources, it's going to massively change what we will be able to understand," said Bryan Rich is currently the Senior Managing Director for Accenture's Global AI Practice for the Public Sector.
3. Impact
The theme of Explore 2023 was From Transparency to Action, and we closed the event with a focus on how all of this action can lead to genuine global impact. But "impact" can mean a lot of things to different stakeholders. So Andrew Zolli, Planet's Chief Impact Officer, took the stage with Enric Sala, National Geographic Explorer in Residence, and Christiana Figueres, Founding Partner of Global Optimism and Former Executive Secretary of the UN Framework Convention on Climate Change, to unpack exactly that. Andrew highlighted how we need real collective systems change that focuses on the delivering and fostering trust and building pathways to scale. They discussed how strategic actions can lead to powerful global impacts from preserving the critical biodiversity in our oceans to building international programs focused on common goals.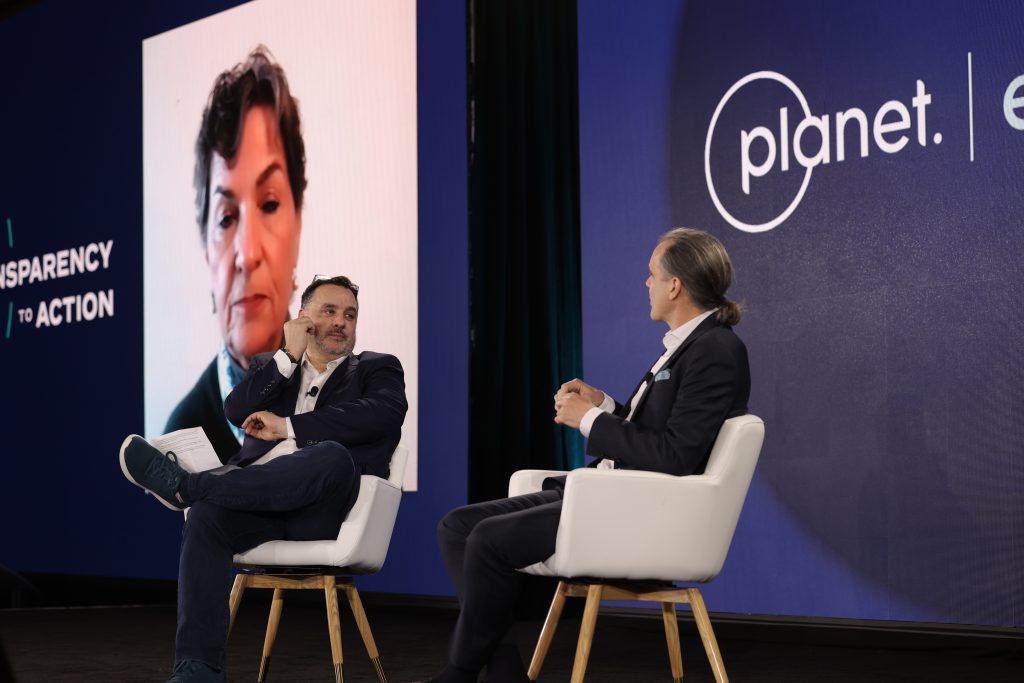 "When we all actually understand that we are all bound by our common humanity, living on our common home, then you develop the ability to jump over the divisions that drive us apart," said Figueres.
At the end of the day, I was privileged to host a spellbinding luminary talk with mountaineer, National Geographic photographer, and Academy Award Winning filmmaker Jimmy Chin. He's equally as well-known for his rock climbing and skiing achievements as he is for his impactful storytelling work. He reminded us that in order to make a big impact in the world, we need to be bold, adventurous, and creative, and encouraged us all to "keep pushing the edge" whether it was in technology, science, or our creative pursuits.
"There are two great risks in life, risking too much or risking too little. When you examine the costs of not taking risks, it refines your calculations," said Chin.
Like Planet, Chin believes in the power of transparency to lead to action. He shared that he always believes that transparency is central to his documentary filmmaking work as he looks to reveal the truth and educate others about the world and how to protect it. We ended our talk discussing his latest documentary, Wild Life, which focuses on conservationists who dedicated their lives to protect some of the most unique and biodiverse places in the world. Chin left us with the parting notion that even a small group of friends and collaborators can make a massive impact on our planet.