>
>
Remote sensing as an effective solution for the development of the rice sector in Uruguay
Stories
To read this piece in Spanish, view this page. To read this piece in Portuguese, view this page.
There are various challenges facing the rice sector in recent years from the volatility of paddy prices to efforts for driving supply chain normalization which can be responsible for regulating the market worldwide, reducing production costs, and returning profitability to the farmers.
These challenges have generated a need for new monitoring technologies, providing truthful and precise information in each region and season. For that reason, Oryzativa has integrated Planet images into their satellite monitoring platform for the rice sector.
This solution combines agronomic knowledge, technology and remote sensing together with the experience of the actors in the sector, through monitoring, interaction, and continuous feedback with producers, which allows the timely identification of crop problems in early stages, reporting and data integration.
The main results obtained by the Oryzativa platform with the use of Planet images have been:
Follow-up on the evolution of irrigation
Early estimation of potential yield
Development of indicators specific to the water situation of the soil/crop
Evolution of NDVI to evaluate growth rate
Índice NDVI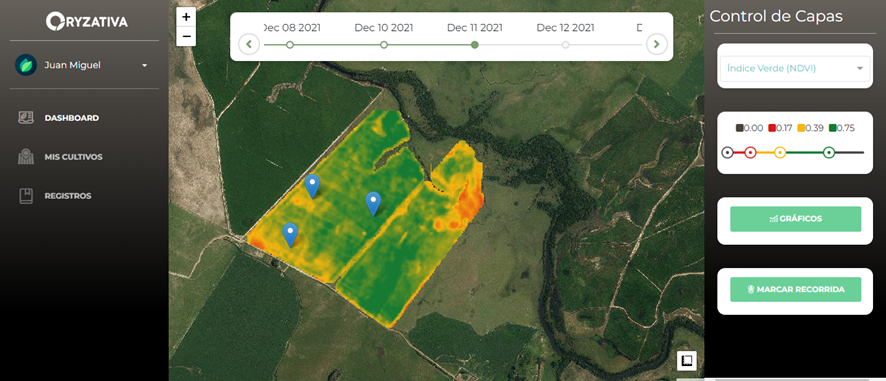 Ídice NDWI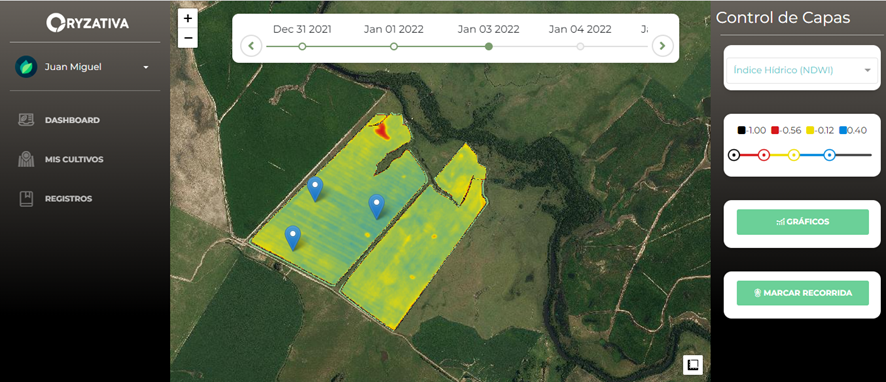 "The level of detail that is detected in the farm allows anomalies to be detected earlier, a necessary knowledge to encourage productive, profitable and sustainable agriculture," said Bernardo Bocking, CEO and Co-Founder Oryzativa.
The future looks promising, according to the CED report, it is known that Uruguay "stands out" in the productivity of rice cultivation for having an average annual growth rate of 2% in the last 20 years, being the best performance in Latin America and in the Top 5 worldwide.
Based on that, the Oryzativa team plans on focusing on the integration of data collected in the field with remote information, improving the indicators provided by the platform.
"The effective and agile technical support provided by the Planet team allows queries to be quickly resolved at each stage of crop management, this facilitates decision-making throughout the Agroindustrial complex," said Bocking.
Additionally, the Oryzativa team highlights that in the first year with Planet images they managed to monitor more than 30 thousand hectares of rice in Uruguay and Argentina. This provides the opportunity to grow as much as possible each year with the commitment to offer a quality product with solvent support at all times, adding useful services for the producer, including satellite monitoring.
There are many benefits for using this satellite technology, among them are the high frequency leads for early problem detection and correction to maximize yields, the near-daily capture, and a better resolution per pixel, allowing precision agriculture to be developed at scale, even in regions with frequent clouds.