>
>
High-Res for Tropical Forests: Celebrating One Year of the NICFI Data Program
Stories
Each quarter we publish a blog post highlighting the innovative ways participants in the NICFI Satellite Data Program are putting Planet data to work to help reduce and reverse tropical forest loss – whether that's through government action, private sector adoption, or NGO coordination. This quarter, we are excited to once again highlight the actions of our users – and also to celebrate one year of the program and its impact to date.
In September 2020, the Norwegian Ministry of Climate and Environment awarded Kongsberg Satellite Services (KSAT), who, in partnership with Planet and Airbus, have since been providing comprehensive access to high-resolution satellite monitoring of the tropics to help reduce tropical deforestation and combat climate change.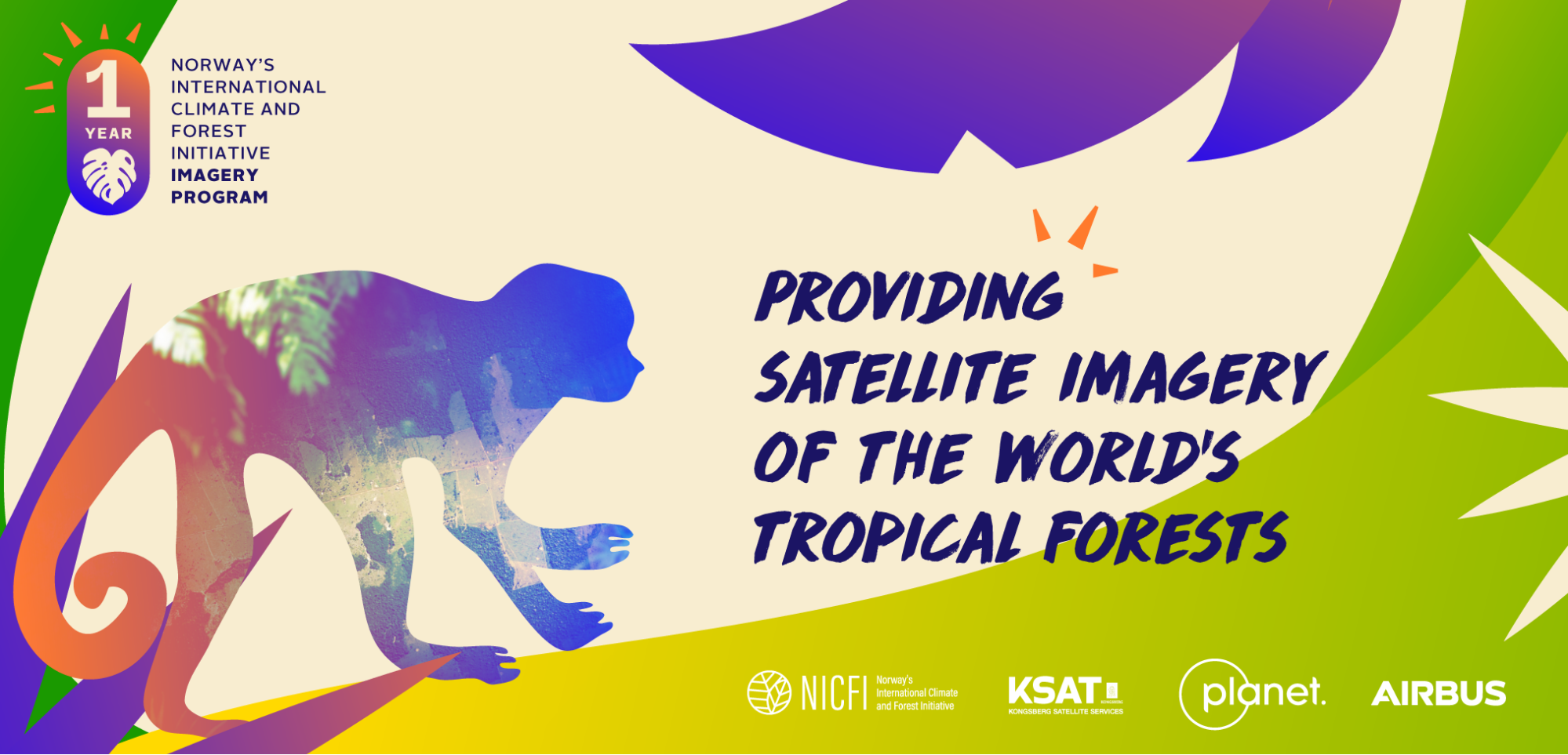 One year later, we are excited to share some impact to date!
The NICFI Satellite Data Program has thus far registered over 9,000 users from 130 countries around the world. The Planet Tropical Basemaps now account for over two-thirds of the Basemap selections on Global Forest Watch, a figure that is growing by 25% each quarter. Over 15 million tiles of the Planet Tropical Basemaps have been streamed from the Planet platform, and 70% of surveyed NICFI users said the NICFI Data is now their primary imagery source.
The Program has established working relationships with a number of key partners across its three levels of access. These include Purpose Allies bringing the Visual Basemaps to local and global communities; Platform and Tool Partners enabling technical workflows on the Analysis-Ready Basemaps; and General Partners applying the Scenes-level data. 
This past quarter in particular, the NICFI Satellite Data Program launched a number of new, consequential partnerships. We are pleased to announce a new partnership with Google Earth Engine, which made the NICFI-Planet Tropical Basemaps available in Google Earth Engine's compute platform for analysis. Users can access the data directly in their GEE catalogue, with no need to store or move data. Within the first month of the solution, we have had over 1,100 NICFI users begin to analyze the Tropical Basemaps within Google Earth Engine! We cannot wait to see the scientific progress this helps facilitate.
In addition, the NICFI Satellite Data Program also announced new partnerships to enable visual and story-telling use cases as well. Mapbox released a suite of demo tools aimed at helping NICFI users more readily translate the high-resolution data into visual story-telling tools. This includes templates to display Planet-NICFI Basemaps on an interactive Mapbox webmap, select from multiple time periods to compare change over time, and create a swipe interaction to display two sets of Planet-NICFI imagery side-by-side for easy comparison. Moreover, the Program Team also hosted a training webinar for journalists to use the data in environmental reporting in partnership with the Pulitzer Center.
As always, we heard a ton from our users about all the great things they're doing with the data. To date, the NICFI Satellite Data Program has gathered over 300 user stories (and we know there are more out there – please respond to our surveys and share your stories when you can!).
We had the pleasure this quarter of many users sharing their stories at Planet Explore, Planet's annual user conference, this Fall. These included but were not limited to!):
The

European Space Agency

and

Gisat

presenting on how their team is combining the NICFI-Planet Basemaps with the SAR band of Sentinel-1 to improve deforestation detection and carbon mapping in the Amazon;

The

Government of Uganda

sharing more on how their team, in partnership with the United Nations, is using the NICFI-Planet Basemaps to improve its Measurement, Reporting, and Verification to the

United Nations Framework Convention on Climate Change

;

PepsiCo

discussing how it is leveraging the NICFI-Planet Basemaps via

Global Forest Watch Pro

to begin incorporating satellite monitoring into their environmental impact assessments in sourcing regions.

The

Wildlife Conservation Society

and

National Council for Protected Areas in Guatemala

showing how they are using the Planet-NICFI Data to detect and intervene on illegal deforestation in the Maya Biosphere Reserve. The number one driver of deforestation in the Reserve is cattle ranching, and the high resolution Planet data allows them to detect ranching infrastructure and illegal conversion to pastureland.
As we move into Year Two of this program, we are excited to see our partners and users continue to innovate on how to leverage high-resolution satellite monitoring to reduce and reverse tropical forest loss and combat climate change. This is core to Planet's mission, and we're glad our data can help.
If you are attending COP26 in-person next week, we'd love to have you join us for an evening of programming and discussions with Planet, KSAT, Airbus, and Norway's Ministry of Climate & Environment. Register here. 
Here is the comprehensive user guide on how to access the program's data.