>
>
Programs…Launched! Data Feeds…Released! All Systems Go at Explore 2023.
News
What an exhilarating ride we had today at Explore 2023! Our annual user conference, hosted in Washington, D.C., was stacked with thought leadership keynotes, customer and partner speaking events, and an Expo theater. With hundreds of individuals in the audience, the day began with a series of energizing keynotes from Planet co-founder and CEO Will Marshall who shared the latest news coming out of Planet, from data feeds to program launches. 
Here are the 5 things that most excite me about what's ahead and how this year's event theme, "From Transparency to Action" comes to life.
Increasing transparency with easy to use data and metrics
To kick-start the day, Will announced the latest Planetary Variables product updates, which capture and quantify changes in dynamic global systems. Today, we launched full availability via APIs of four data feeds – Roads and Building Detection, Soil Water Content, Biomass Proxy, and Land Surface Temperature. We also introduced a new suite of Variables, including Forest Structure, Forest Carbon, and Vegetation Encroachment, slated to be available later this year. These data feeds render earth observation data into metrics – providing a transparent and measured look at our world at large.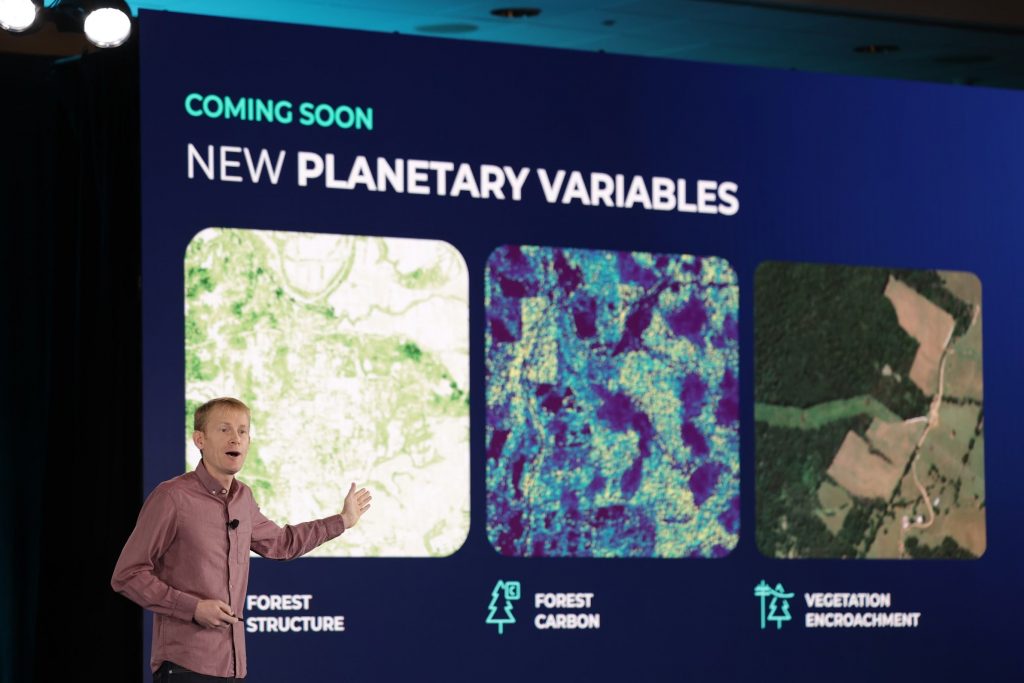 Democratizing access to global insights
Democratizing access to satellite data to non-traditional users has been part of Planet's mission from the start. And today, to further this goal and cultivate innovation, we launched our Startup Program, which aims to enable early-stage startups to build novel applications powered by Planet's data. We look forward to welcoming 30+ startups globally this year into this program to build, prototype, and experiment with new solutions through this program. A number of startups from the Startup Program's first cohort joined us today at Explore 2023 to present their work. Two highlights were Terra Cover, which is pioneering virtual monitoring stations for rivers and streams, and Vibrant Planet, which is generating solutions for managing forested areas for wildfires. We are committed to continuously making our data and tools accessible, and over the last year, we have launched a whole series of programs to increase access to those who look to solve some of the world's most complex challenges, including the Nonprofit Program, the Global Food Security and Agriculture Program, and the enhanced Education and Research Program.
Embracing the future of AI and an Earth Data Platform
We live in a unique time for innovation and artificial intelligence, and I'm excited by how Planet is embracing these advances. Today, Planet President of Product and Business Kevin Weil's visionary keynote, dove into our recent announcement about our agreement to acquire EO data platform company, Sinergise, which operates EU-backed Sentinel Hub. This move looks to accelerate Planet's goals to create an Earth Data Platform to empower global action. Sinergise develops and operates machine-learning based solutions for monitoring the planet, and we very much look forward to where this will lead next.
Speaking of earth data platforms, Kevin also teased a proof-of-concept project Planet's been working on with Microsoft's AI for Good Lab, affectionately known as "Queryable California." It was designed to evaluate how next-gen AI technology can make high-resolution satellite imagery and Planetary Variables more accessible by both indexing physical characteristics of life on Earth and making it searchable. You can read more about it in this blog.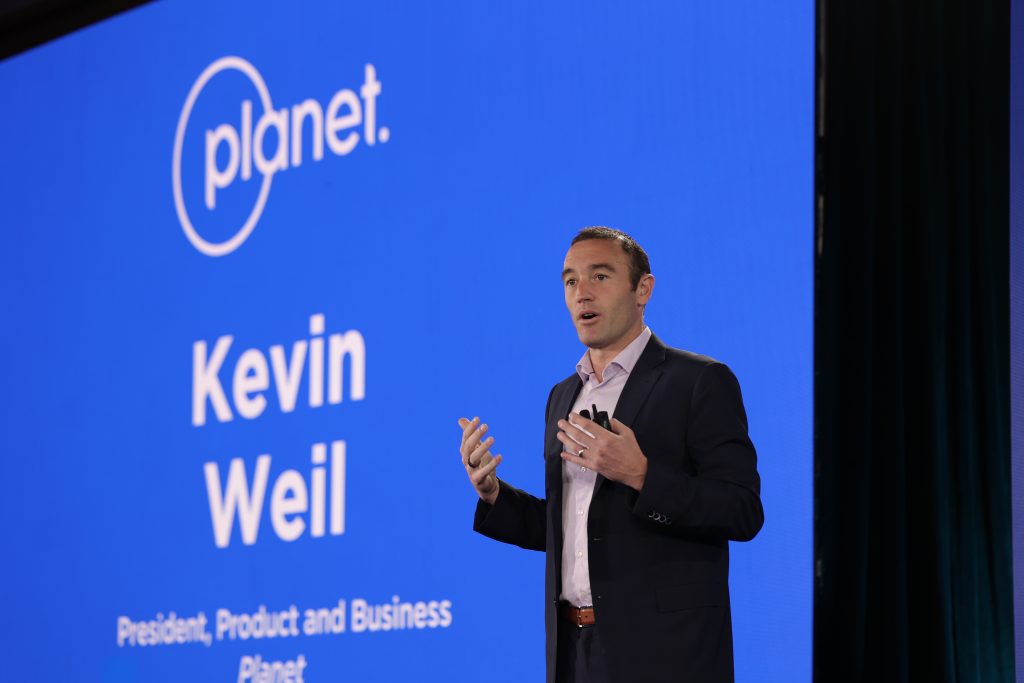 Cultivating actionable solutions with our Partner ecosystem
Planet has built a worldwide network of partners which have built novel solutions to enable Planet customers to take action. And now, we are further cultivating their innovations and services through our formalized Solution Certification Program, also announced by Kevin. This program technically tests, validates, and certifies unique Partner solutions that can be successfully scaled to many Planet customers. Earlier this year, Planet announced the first three certified partners: SCCON, Woolpert and (before mentioned) Sinergise, recognizing them as companies that offer robust applications and services, such as providing cloud deployments and optimization support, and delivering API-based dynamic alert systems for environmental and risk analysis. Together with our certified partners, we look forward to scaling such robust solutions to support customer action.
Empowering our customers to change the world
At the very heart of all of Explore 23 is our customer and partner stories. We heard from scientists, defense and intelligence analysts, leaders in Agriculture, and government officials – all of which shared how they were digitally transforming their operations, transitioning towards a sustainable future, and ensuring peace and security on this earth. Here are some of the most captivating moments of the day:
Vice Chair & President of Microsoft Brad Smith on the Future of Artificial Intelligence and Planet's Data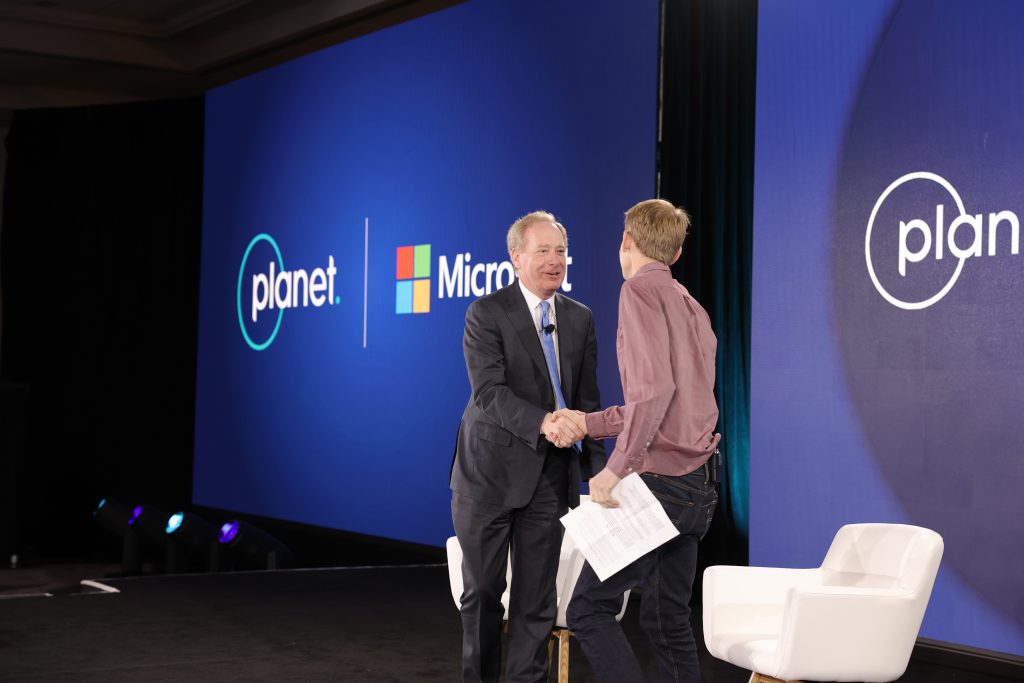 We were honored to be joined by Brad Smith (left) to hear his enlightening thoughts about the future of AI to evaluate our changing earth and what new technologies, such as ChatGPT, could do to help build accessibility to data around the world. "When you take satellite data and you add AI, you open up this data and make it easier for people to understand what's going on. You've opened up a new realm of possibility for humanity," said Smith.
Putnam Investments Head of Sustainable Investing Katherine Collins on Sustainable Finance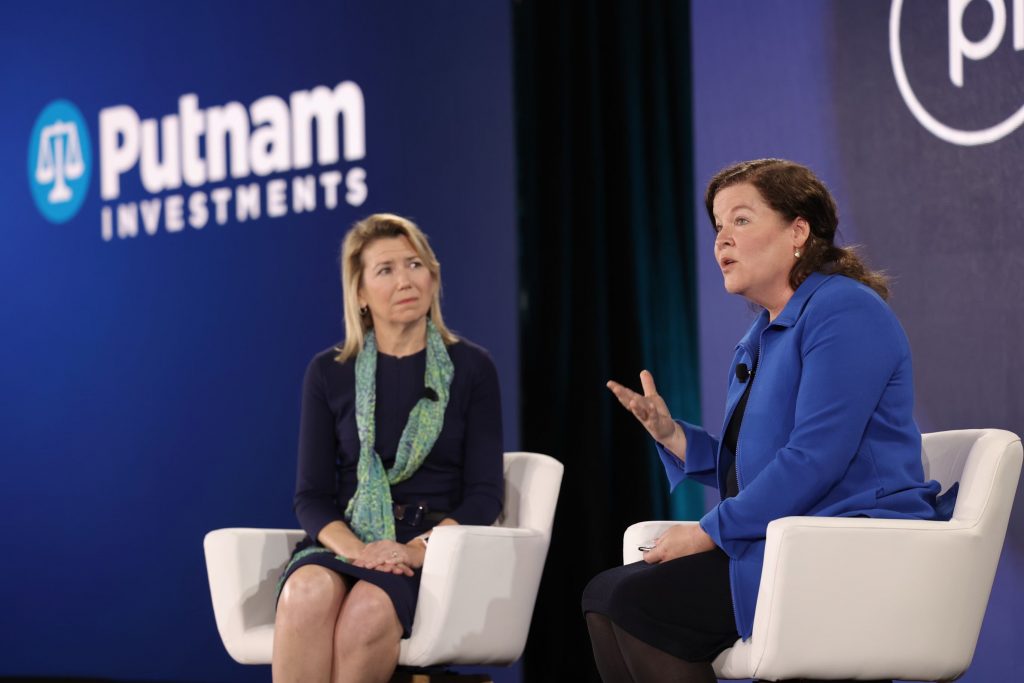 Planet Chief Financial and Operating Officer Ashley Johnson (left) hosted Katherine Collins (right) for a fireside chat about the future of investments, the world of ESG, and sustainable finance. "What's really interesting with Planet is there is the hard asset of satellite data that is unique and hard to replicate, and there is the second asset, the data, which provides others with value. Both of them are evolving in an expansive way over time," said Collins.
Vice President, Global Head of Digital, Product Supply of Bayer Crop Science, Jim Kennet on Digital Agriculture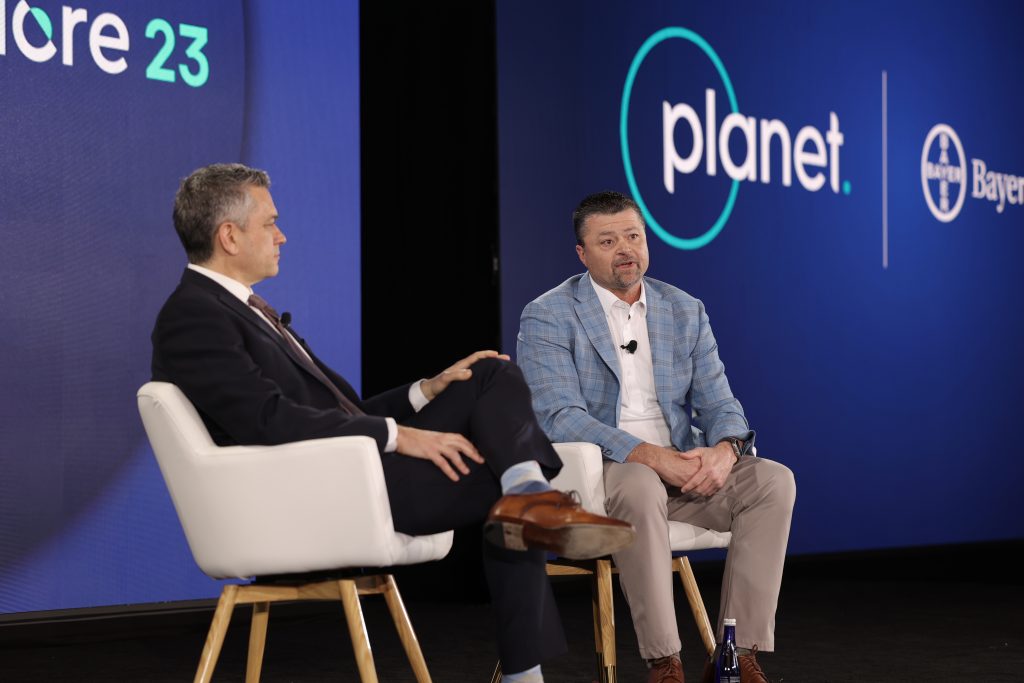 Jim Kennett (right) shared with Planet's Chief Customer Officer Mike Merit (left) how Planet's data is helping Bayer revolutionize digital agriculture. With data about crop biomass, seasonal growth patterns, and irrigation, the agricultural company helps to reveal supply chain insights. Planet's data has enabled the Bayer Crop Science team to see crop changes in near-real time and respond swiftly, ensuring sustainable and data-informed management practices, Kennett explained.
As we brought this event together, we were thrilled to see just how many diverse and inspiring leaders, analysts, and scientists were convening to share how Planet's data has enabled them to see the world in a new and transparent light. The future feels bright as this year's Explore showcases how our customers and partners are taking strides to build a better world through data-informed action.
Today was just the first day, so stay tuned for another piece about our Day 2 luminary speakers and our focus on impact tomorrow!