>
>
Understanding the Unseen: Art of the Possible Storytellers Illuminate Narratives From the Ground
Stories
The Art of the Possible storytelling challenge began with the end in our minds. That is, to bring impactful change into communities, one Earth image at a time. We received 38 research proposals across the Asia-Pacific and Japan region, each with a unique perspective and different sets of challenges from various industries, but all of them recognized how vital satellite technology is to their respective fields.
To enable the storytellers to assess their chosen areas of interest comprehensively, Planet provided their research group with an institutional license as part of our Education and Research Program. The program equips changemakers with non-commercial access to high-resolution and high-frequency Planet imagery.
From these visionary stories of community-based monitoring, citizen science, and environmental education, two really stood out and received the prestigious Art of the Possible awards in Earth Science Innovation and Earth Science Community.
Earth Science Innovation Award: Crop Yield Prediction With High-Resolution Satellite Image and Deep Learning Model: A Case Study in Naldanga Subdistrict, Natore, Bangladesh
Food security is a global issue and even more so in populous countries. In fact, "Bangladesh relies heavily on agriculture for food production. Achieving food security is central to the realization of UN Sustainable Development Goal 2 (Zero Hunger), and self-sufficiency in food production is the Bangladesh government's all-time goal," says Dr. Sara Nowreen, Art of the Possible Awardee for Earth Science Innovation. Not only that, agriculture generates more than 40% of jobs in Bangladesh.
With that in mind, Nowreen, together with urban planning and water management expert Rashed Uz Zzaman and computer engineer M Sohel Rahman, formed an i-modeling group to estimate the spatial distribution of crop yields and total production in Bangladesh. Their innovative approach explores the potential of satellite images to "accurately capture the distinct reflectance of different crops on a specific date." Through the study, they mapped food production for the growing seasons of 2021/22 and 2022/23 and focused on the area of Naldanga because it "serves as a notable example of the diverse land use practices in Bangladesh."
The government's crop production and yield data record is inadequate for a comprehensive analysis of the geographical distribution of crop yields. It would require extensive surveying of agricultural lands, which is time-consuming and labor-intensive. Planet's data removed this roadblock, enabling them to precisely measure "vegetation indices to ground-based crop yield and apply a deep learning algorithm" to predict agricultural productivity in specific areas and provide insights on potential causes of crop failures or reduced yields.
Their multidisciplinary approach integrated with near real-time satellite imageries can potentially provide practical insights for farmers to take proactive measures such as adjusting planting schedules or changing to resilient crop varieties to prevent losses and secure food production. Even with a temporal delay of just a single day, Planet users can easily request images captured on specific dates the following day for data consistency.
Comparing Planet's platform to other open-source data providers, Nowreen noted that "PlanetScope images are accompanied with a mask product known as UDM2 (usable data mask). This mask product serves the purpose of masking away any erroneous data that may be present in the images." In addition to the masking capability, the supply of harmonized Sentinel-2 and PlanetScope imageries speeds up smarter decision-making in urgent situations.
It is hard to believe that their research group only started using Planet's data three months ago.
Imagine what they can do with a year's access to high-frequency and high-resolution images.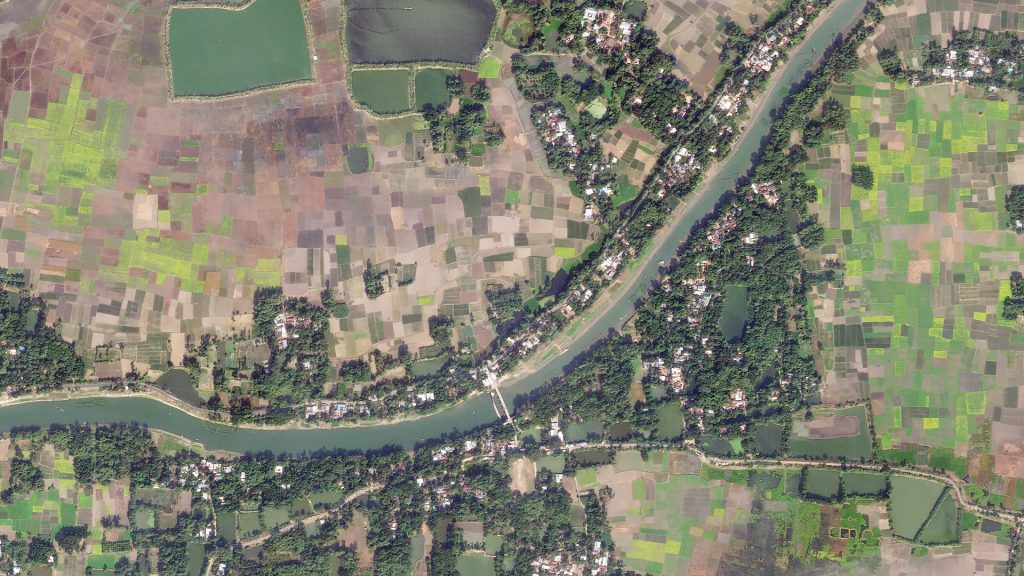 Earth Science Community Award: Habitat Mapping for Targeted Restoration of Apo Reef Natural Park
Reports of consecutive large-scale natural disturbances in the Apo Reef alarmed research scientists Marion Michael Bacabac, Victor Tizon, and Jesus Gabriel Fetil. The Apo Reef is located in the Coral Triangle, home to the largest marine biodiversity spots in the world, and has a significant ecological value. They partnered with the Apo Reef Natural Park (ARNP) to improve habitat level mapping and conduct targeted community-based conservation and restoration efforts to preserve ARNP.
With a big project and an even bigger problem, they went on a mission to create a detailed mapping of ARNP because "in the last 10 years, only geomorphological broadscale spatial information was available." Their game plan was to use Planet's spatial capabilities to identify the most degraded areas of the reef complex to prioritize their conservation efforts and determine critical ecosystem processes that support the recovery of ARNP.
Working within budget limitations, coupled with periodic inclement weather that prevents timely observations and other logistical constraints, the team also involved the communities in the initiative. "We have conducted a series of capacity-building activities to train and involve the park personnel and local stakeholders in helping monitor Apo Reef Natural Park and to ensure the sustainability of our monitoring and reef rehabilitation activities," shared Bacabac.
The initiative is a testament to our belief that it takes a community to preserve a reef system, and our technology is but a tool to facilitate experts and stakeholders to tackle global issues.
Past the Present Use Case
Both stories echo the importance of collaboration in the success of their initiatives. With a year's access to the Planet Platform, they already have a roadmap for utilizing the satellite data to fulfill the promise of what's possible.
Sara Nowreen of the i-modeling group plans to "conduct a comprehensive assessment of land use and land cover (LULC) across the entire nation on a monthly basis, spanning from 2016 to 2023. Furthermore, in the context of monitoring the preservation and exploitation of natural resources, such as forests and water bodies, in remote mountainous areas of Bangladesh, the i-modeling group will derive water indices and vegetation indices. These indices will then be verified by comparing them with the categorization of streams based on their respective orders within the watershed."
Closely connected to monitoring and preservation of the environment is Marion Michael Bacabac's plan to "conduct change detection studies in other coral reef areas in the Philippines" to expand their conservation efforts using PlanetScope. He hopes that there should be more awareness of the importance of large oceanic reefs in the world in preserving diversity and sustaining livelihoods.
Yet again, we applaud all the efforts and dedication of all storytellers using their talents and creativity to enter a brave new world filled with sustainable solutions and transformative technologies. This is not the final chapter in our continued commitment to a green and lasting future. We begin each day eager to enhance our solutions to better support game-changers around the globe.