>
>
Satellites enable disaster management for unprecedented Australian floods
Stories
Last month, Australia was hit with "once in a century flooding" which stranded communities and forced mass evacuations. Officials reported that in some regions of Western Australia, water covered up to 50 sq kilometers and aircrafts were used to administer aid and supplies. At Planet, we are committed to supporting governments and institutions around the world in disaster response and management, and we are proud that our partner NGIS was able to leverage Planet data to respond to these destructive Australian floods.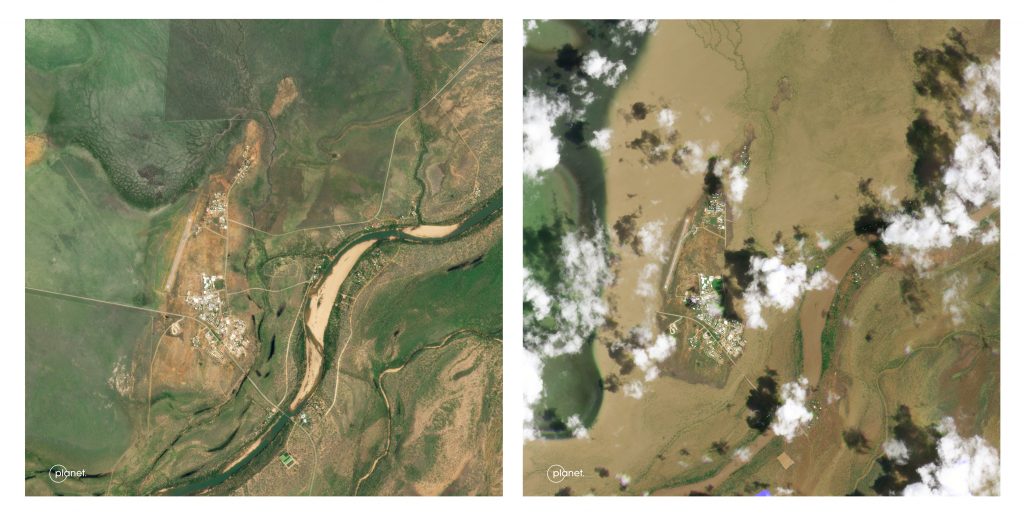 Due to extreme weather brought on by a multi-year La Niña event, Australia has been experiencing severe flooding for the last two years, and Planet's satellites have captured these natural disasters, helping to inform the media and support our partners in the region. Through NGIS, our satellite imagery helped offer a safe and swift way for the New South Wales State Government to gain situational awareness over the flooded region and make active decisions. Read the article below cross-posted courtesy of NGIS to learn how our satellite data was utilized to help protect those in crisis.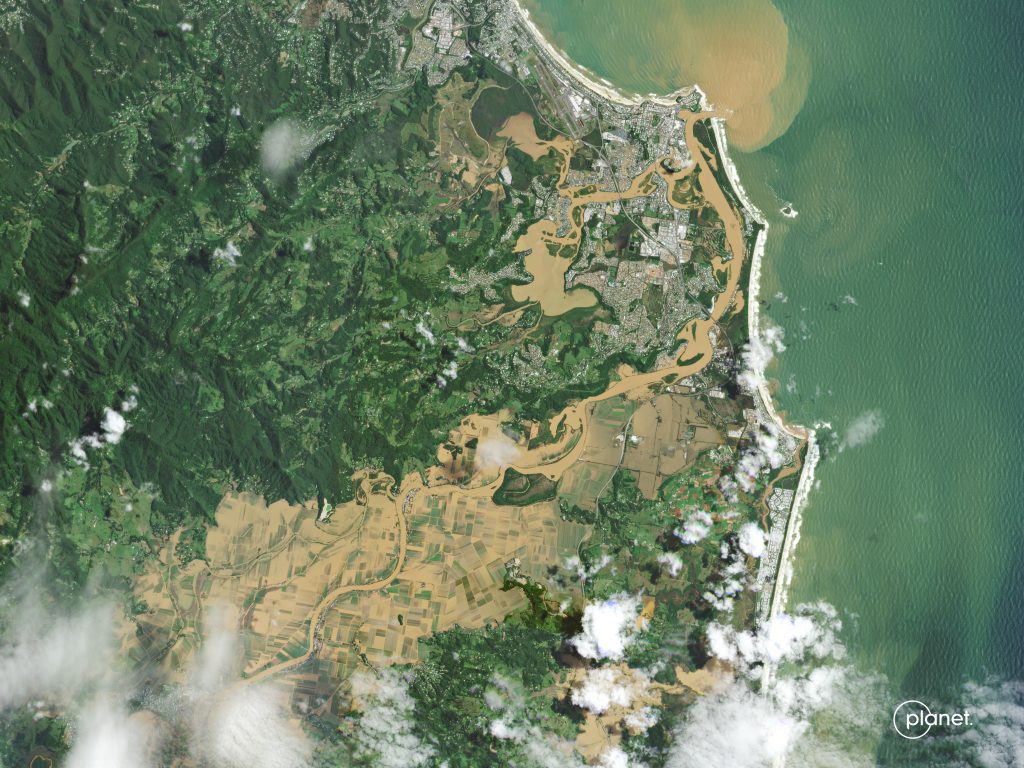 # # #
PUBLISHED ARTICLE FROM NGIS || LINK
USING EARTH OBSERVATION TO MONITOR FLOODS WITH PLANET IMAGERY
Australia is experiencing a widespread flooding crisis. From heavy rainfall in Northern and Central Queensland, rising waters in New South Wales and South Australia, to ongoing major flooding in Western Australia – the rains are causing havoc all over the country.
While floods can bring welcome relief for ecosystems suffering from drought, they pose a serious risk to the lives and livelihoods of those affected. They are also estimated to be the most expensive natural disaster in Australia – with a cost of $3.5 billion in 2022, and several billions more forecast for Government spending and insurance bills in 2023.
NGIS have responded to several devastating disaster events this summer, providing a full picture of the flooding events from space. Visualising imagery of an affected area from a bird's eye view allows for a comprehensive understanding of the scope and severity of a flood. This information can be used to make more informed decisions about evacuation routes, emergency response efforts, and potential damage assessments.
Our imagery partner Planet has provided timely and analysis-ready satellite imagery of each event. Founded in 2010 by three NASA scientists, Planet designs, builds, and operates the largest Earth observation fleet of imaging satellites, capturing over 30 TB of data per day. Planet currently operates two satellite constellations; their Dove satellites, which provide a daily scan of all the Earth's landmass at 3-meter resolution, and their SkySat tasking satellites, which capture tasked images at 50 cm resolution of any location on Earth.
The beauty of these two constellations is that they offer imagery when it's needed most anywhere in Australia. Together, with NGIS' geospatial solutions and services, and Planet's data, we are making this data visible, accessible, and actionable. For more information on how NGIS can help your organisation with Planet imagery click here.
FLOODING EVENTS
1. Flooding along Australia's Fitzroy River and Kimberly region, Western Australia | January 2023
Termed the 'worst in WA's history', the sheer scale of these floods smashed previous records in height and size. Although floods in this area are common, torrential rain and swells caused by Tropical Cyclone Ellie from December 23, 2022, submerged the landscape, like never before. Fitzroy Crossing was cut off by record high levels of floodwater, equivalent to two meters higher than the last record-breaking flooding event in 2002, and a flow rate equal to 20 years of Perth's water use.
The impacts of the flooding left remote indigenous communities isolated, and hundreds of people in need of evacuation. The sheer size of the flooding made it difficult to capture data of the flooding events, as drone and aerial data collection was not a quick or effective option. Satellite imagery, such as daily PlanetScope imagery, provided an easy means to view the breadth of flooding, and provides an opportunity to view the destruction and clean-up as it occurs. The Western Australian Government continued the recovery process across the Kimberly region into February 2023. View here to compare the region before and after this flooding.
2. Flooding along Central Darling, North New South Wales | December 2022
Fast rising flood waters caused major flooding and evacuation along the Central Darling, including the Menindee Township. Waters arrived down the river at a rate of more than 70 gigalitres per day into Menindee. Many residents in the area were left stranded, with their homes accessible only by boat and damages due to cost thousands of dollars. Further upstream, water continued to flow through Wilcannia, providing constant pressure to the lower system.
The ability to capture high-resolution SkySat images during the December 2022 flooding allowed for the NSW State Government to record the devastating impact the floods had on communities and the environment. No two floods are the same and can vary depending on the quantity, duration and location of rain falling – requiring responding agencies and Governments to collect data on a flooding event, when and where it occurs, to adequately respond.

3. Flooding at Younghusband, South Australia | January 2023
The southern end of the Murray-Darling Basin is subject to inundation, especially after excessive water and flooding in the river system further upstream. The La Niña weather event, which brought rain to eastern Australia for the past three years, continued into 2023 providing high water levels to many towns along the river's end in South Australia.
Traditional methods of flood monitoring, such as ground surveys, can be time-consuming and dangerous in the midst of inundations. Satellite imagery, on the other hand, can be captured and analysed quickly and safely, providing up-to-date information to emergency responders and decision-makers. Planet imagery is an essential tool for understanding and responding to flooding. It provides valuable information that can be used to protect communities, save lives, and minimize the impact of floods on the environment and economy. To view imagery of flooding at Younghusband, explore NGIS's blog.
Visit Planet Stories for more imagery timelapses and examples of Planet's work.