>
>
Building Bridges to Sustainability at Planet On The Road 2023
Stories
All eyes were on the Asia-Pacific region as Planet gathered the Earth observation community from key global industries with leading experts, research innovators, and industry disruptors from all parts of the world in Planet On The Road 2023. It reminded me of building bridges across rivers to create connections, just as we were at a riverside hotel forging the possibilities of collaborations. Ben Allard, VP of Sales for APJ, said it best in welcoming the participants, "We wanted the focus to be you. Learning from each other, sharing insights and trends, and discussing how to work together to achieve our collective mission and goals." With 168 guests, including 57 Planet Partners, each carrying a unique perspective and passion for progress, the event was a melting pot of ideas, insights, and innovations.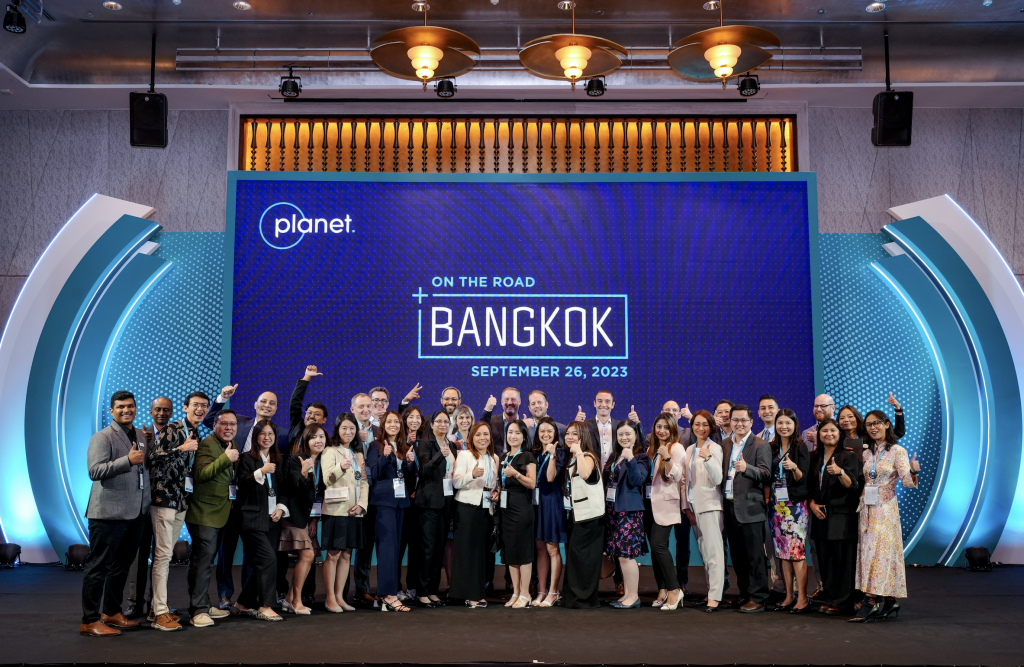 Learning From Each Other
Part of humanity's strength is its diversity. These differences can make all the difference in this rapidly changing world. We take this insight to heart and embrace each opportunity from our regional partners and customers. For instance, in his opening keynote, our President of Product and Business, Kevin Weil, shared how our partners are exploring the art of the possible with satellite data.
In an exciting fireside chat with Mahesh Reddy, Sales Director and Co-Founder at Theama Technologies, he shared how Planet data enabled a verification system that eliminated fraud in subsidy claims. It eventually saved the Odisha government $260M and, most importantly, added over 650,000 farmer-beneficiaries to the program. We've also had the privilege of hearing about the admirable prototype project of the Forest Management Bureau in the Philippines and Geospectrum in one of our afternoon industry breakout sessions. Kevin, during the opening keynote, highlighted that this solution "streamlines both the forest cover monitoring itself, as well as reporting the results" and can potentially expand to other land rehabilitation projects in the country, such as the National Greening Program. It is a testament to satellite data and AI modeling's capability to enhance insights into forest trends and vulnerabilities in vast areas.
These groundbreaking partnerships are valuable to us because improving our solutions without customer feedback is impossible. Our customer-driven approach to product development allows us to deliver timely and the most accurate data possible. This year alone, we had system and hardware enhancements, including:
Our upgraded PlanetScope product, which went from 4- to 8-band imagery, provides sharper images with more accurate data than ever.
Faster downlink, process, and publish timeframe of Earth image capture to see change as it happens and empower critical and informed decision-making.
Launching 36 new SuperDoves, increased the capacity and efficiency of SkySat, making our assured collects available in some cases within about five hours after collection.
UI upgrades for more efficient simultaneous tasking orders and greater transparency on weather parameters and other factors.
A complete overhaul of our analytics pipelines for faster analysis-ready and reliable data.
Expanded open water coverage of our ship detection models.
Strengthened outlier detection capabilities and heightened sensitivity of Soil Water Content, Land Surface Temperature, and Biomass Proxy Planetary Variables.
Continued improvements in our platform to enable you to do more and make your lives easier.
Borrowing from Kevin's ethos, "Good work, consistently, over a long period of time," we at Planet intend to stick around to index the physical changes on Earth the same way Google indexes the internet. With these changes, big and small, and the exciting future ahead with our incredible partners and collaborators, we are confident we are on the right track.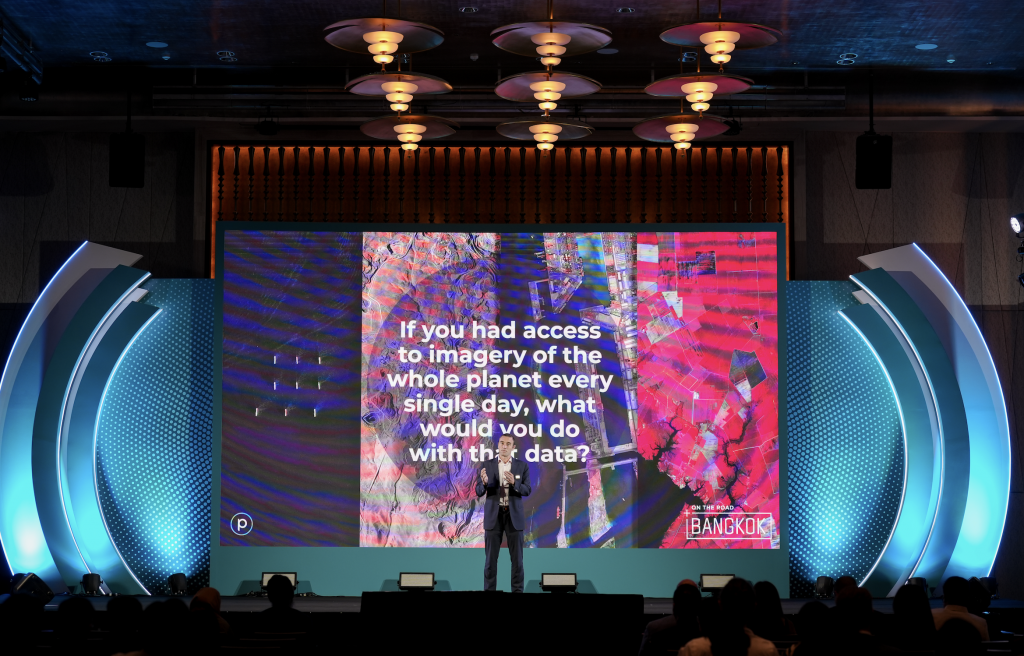 Towards Our Collective Goals and Missions
Our mission to "use space to help life on Earth" came alive in our enlightening panel discussion with the United Nations – Economic and Social Commission for Asia and the Pacific (UNESCAP) and the Geo-Informatics and Space Technology Development Agency (GISTDA). The 2030 Sustainable Agenda gets nearer every day, but recent disasters and geopolitical tensions have reversed the progress over the years. According to Keran Wang, Chief Space Applications Section Information and Communications Technology and Disaster Risk Reduction Division at UNESCAP, the identified "four key elements to push sustainability goals" starts with people and their willingness to make evidence-based decisions, further democratizing data to encourage usage and the effective management and analysis of collected data.
On the other hand, Dr. Pakorn Apaphant, Executive Director at GISTDA, echoed stakeholders' pivotal role in the program's success. Satellite imagery and remote sensing are critical for a myriad of industries, including agriculture, food security, and water management. While satellite imagery provides accurate, timely, and high-frequency data, stakeholders work closely with government agencies because they "see a lot of benefits from using satellite data, but also need a lot of support from the government in order to engage users" to use the technology in crop monitoring, disaster risk reduction, and response.
LiveEO addressed the global supply chain sustainability, its impact on deforestation, and the challenges exporters faced due to new compliance regulations from the European Deforestation Regulation (EUDR) of the European Union. Martina Baccolo, Global Partner & Alliances Director at LiveEO, discussed their innovation solution combining "unlimitedly scalable data pipeline based on high-resolution Planet imagery, advanced machine learning techniques, and a relentless user-centric approach" to generate value for global companies while ensuring EUDR compliance.
Ken Tsutsui, Technical Director of AW3D at NTT Data, highlighted their "highly precise, pre-produced digital-elevation-model, 3D map of the world," aiming for a 4D time-series map by leveraging Planet satellite imagery. This solution enabled never-before-seen perspectives "in the civil and industrial sectors to receive value-added information for urban planning, disaster-damage forecasting" by providing customized maps for specific locations and purposes.
On the Road To More Collaborations in Asia Pacific
Some say that AI is not the future because it is the now. Bringing that perspective in mind, Powon Lee of SI Analytics wowed in a thought-provoking dialogue between him and Kevin. They discussed how Planet and SI Analytics "​​continually reinforce and enhance each other's capabilities." He left us with the hope of a foreseeable future wherein answering queries like, "Which crop was most damaged from the flood last week in South Korea?" is possible with easily obtainable data using the "combination of Planet and SI Analytics product technology."
Tackling digital agriculture, Planet customer and partner Greenrhino and Vulcan AI delivered their breakout sessions delving into their innovative solutions to farming. Jagannathan Doraiswamy, CEO and Co-Founder at Greenrhino, introduced their real-time alerting tool, "leveraging PlanetScope multispectral imagery, to monitor changes in irrigation so that farmers can more proactively and precisely address irrigation stress and inputs." Manik Bhandari, CEO and Founder of Vulcan AI unveiled the power of generative AI and PlanetScope imagery to enable "highly accurate nitrogen estimation at the tree level, surpassing 90% accuracy for oil palms in Asia" and "detect phenological patterns and anomalies, aiding in the identification of emerging health issues."
It would not be a Planet event without recognizing trailblazers in the Asia Pacific. For this year, we honored storytellers from Bangladesh and the Philippines as they showcased the art of the possible stories using satellite imagery. Through this collaboration with the academe, we hoped to nurture promising research studies that push beyond the limit to uncover solutions to the world's most pressing problems.

Experience the community built and the brimming insights from Planet On the Road with our curated list of presentations from our experts and partners.